A Good Workman is Proud of His Tools – DIY Doctor Helps Find The Right Tools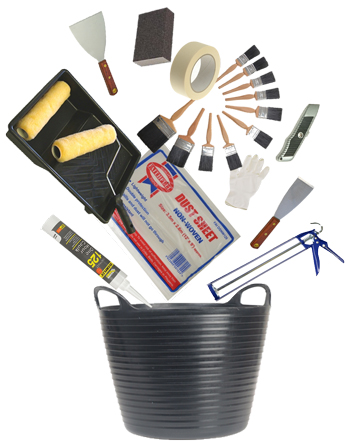 A Bad Workman Blames His Tools
We have all heard the old adage "A Bad Workman Blames His Tools" – The saying means that a bad workman will buy cheap shoddy tools, which are incapable of giving a good finish, where a good workman would invest a little bit more to get a better quality tool, to give a better quality job.
At DIY Doctor we recognise that money is tight, which is why we have been searching for a solution which allows you to buy tools that a good workman would be pleased to own, at a price that you can afford.
With our DIY Doctor Bargain Buckets we think we have cracked it – each bucket has the main tools you need for each job and the price is a very reasonable £45 + P&P.
Choose from our:
Decorating Bargain Bucket (which we have featured here)
and our
There will be more sets on offer from DIY Doctor soon!
Decorating Bargain Bucket Tools Set – What's in the Bucket?
10 x good quality paint brushes from 25mm to 100mm
1 x contractors skeleton gun
1 x tube of decorators caulk or "flexible filler"
1 x hobby knife with retractable blade
1 x contractors dust sheet 12 feet x 8 feet or 3.6m x 2.4m
1 x 50m roll of contractors quality masking tape
1 x strong Stripping Knife – 50mm wide
1 x strong Stripping Knife – 100mm wide
1 x sanding block with fine and medium faces
1 x pair of latex gloves for paint protection
1 x decorators roller tray
1 x decorators paint roller
2 x decorators roller sleeves
1 x 28 litre flexible bucket
See The Video for a Full Explanation
Mike Edwards talks you through the tools in this handy Video, just click to make him speak.
http://youtu.be/yXRTUaKIk-k