Pimp my Kitchen – 10 Great Kitchen fittings
1. Kitchen tap
Now we like the hose and spray variety of kitchen taps because they are so versatile, and they look great too. Make a style statement with your kitchen tap and you could get away with spending less on the sink or the worktop.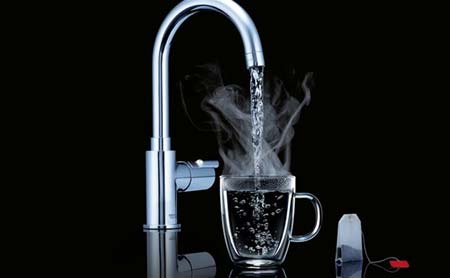 2. Do away with the Kettle
Fit a Steaming Hot Water Tap. This device delivers filtered cold water and Steaming hot water so you can make tea, and coffee straight out of the tap, and you can use boiling water for sterilising items and to make bringing food to the boil much quicker and more economical.
The design is quiet and understated, but it is one of those kitchen items you will wonder how you managed without, especially if you drink as much tea as we do!
3. Class in a Glass
How about one of these fabulous glass worktops to really make your kitchen stand out from the crowd? Plus the glass can have cut-outs for sinks and other fittings, and it comes in a fantastic range of modern colours, from cool to eye-popping, and you can even have a touch of sparkle in there to really make your kitchen shine!
The beauty of tempered glass worktops is that they are so easy to clean and can be moulded to fit the contours of any design you might want to come up with. Don't forget you can add an undemount sink (see below) to really take advantage of the properties of the worktop.
4. Undermount Sink Keeps Clean Lines
Have your sink set in under your worktop to keep lines sharp and stylish. You can only do this if the worktop you are using is a solid material like wood, stone, or glass – check with your worktop supplier before ordering!
5. Save Space – Hide your recycling away
To keep your worktops and in fact your whole kitchen free of clutter it is important to get storage and waste disposal right, why not fit these nifty rubbish storing bins inside a cupboard to make sure you don't ruin the sleek lines of your ultra modern kitchen?
6. Lighting up the room
Consider unusual ways to use light in order to make your room versatile and attractive at different times of the day. This is especially important in modern open-plan homes and where you have the kitchen and dining room in one space.
7. Turn up the Heat
Much is made of hiding heating away these days, but with a cast iron radiator sprayed to your own customised colour, why would you want to? Make a real statement with one of these radiators and have somewhere to drape soggy scarves on a wet day.
8. Slim Shady
Keeping window fittings simple and unfussy is the best idea in a kitchen, a roller blind allows you to adjust the amount of light so it is just right and they look amazing in snappy colours like this fabulous teal one. Pick a colour that complements your tableware or picks out the colour of a painting.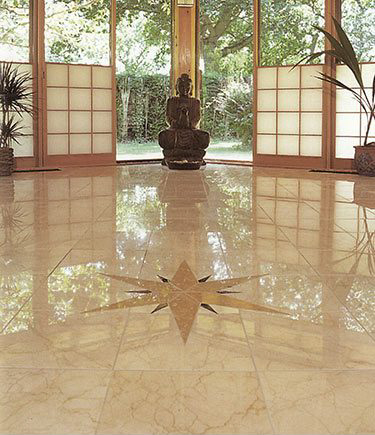 9. Cool and Sophisticated
What could be better than a cool marble floor when it's too hot to move outside? If you are worried about the cooler months you can always install underfloor heating. Using a light colour and a highly polished surface will make a smaller room look more spacious too.
10. Light it up
Consider fitting uplighters using this special coving which has a special uplighting trough to allow you to fit light fittings so it floods the ceiling with light. This soft diffused light is ideal for a romantic meal after all that frantic cooking in your beautiful new kitchen.