Power Shower Installation Requirements
A power shower is a shower that can deliver enough water to give a drenching effect to the showerer. Most people would be happy with a shower flow rate of 15 litres per minute, and would happily call that a power shower experience.
Measuring Pressure
Pressure is measured in bars, the higher the number the greater the pressure. A tank of water ten metres up in the air with a tap on the end of a pipe coming down to the ground would have a pressure of one bar.
If the same tank were two metres above the tap the pressure would be 0.2 bars. This scenario is a more common situation in a domestic setting. This is the reason that most domestic water systems need a pump to increase the water pressure and therefore the flow.
Water Supply
To get enough pressure to get that rate of flow, you will need to have a gravity-fed water tank to ensure that the system will supply enough water to avoid the pump running dry, which would cause damage to the pump.
Or you will need to have a mains pressured system that is capable of delivering a flow rate of about 12-15 litres per minute. Some combi boilers (around 30 – 35 KW) are capable of delivering a flow of between 11-14 litres per minute which may prove quite acceptable in terms of a showering experience.
If you do not have either of these – for instance if you have a less powerful combi boiler (around 23 KW) then you can install a water tank to supply sufficient water to the shower. These combi systems are capable of supplying a flow rate of around 8 litres per minute, which may be acceptable even though it is not technically a 'power shower'.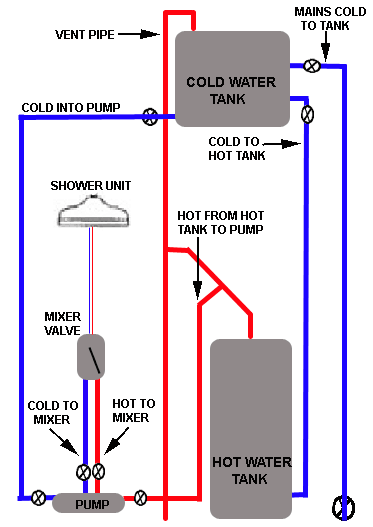 Pump
You will need a pump sited as close as possible to the water tank. The pump pushes water from the water tank to the shower, therefore it is much more efficient the closer it is to the tank.
Plumbing
A high pressure pump (1 bar or more) should be fitted with a 22mm pipe, both to the inlet and outlet
Hot water
Make sure that if you are not using a combi boiler that your hot water storage is sufficient for the flow rate of your shower. Refer to the manufacturers recommendations for this information.
Hot water need not be heated above 60-65 degrees, this is quite hot enough for domestic purposes and in fact if the water is too hot it can affect the running of the shower, and increases the likelihood of suffering from scalding from any one of the hot taps in the house.
Electrical supply
Shower pumps needs electrical supply. Take when working with electricity, particularly when it is sited around water. The safest installation is to install a switched, fused spur from the electrical ring main, in the airing cupboard or on the wall outside the bathroom so the pump can be turned off quickly and easily.
Mixer Valve
Mixer vales mix the hot and cold water to the temperature selected by the user, there are different types of mixer vales and you can read more about these in our Mixer Valves project.
Thermostatic control
You want to avoid the water running hotter or colder as other taps in the house are turned on and off, so make sure your shower has thermostatic control to ensure you do not get a sudden fresh burst just as you have soap all over your face or worse, scalded. The use of Thermostatic Mixer Valves is recommended by RoSPA (Royal Society for the Prevention of Accidents), to avoid household scalding incidents.
Water cut off
An automatic shut off on the pump will be triggered by a drop in flow rate if your water pressure should drop for some reason, this will protect the pump from running dry, and causing damage.
Alternatives to a power shower
The most powerful electric shower is 10KW and this will deliver around 5-6 litres per minute, this could not be described as a power shower, but is as good as you can get without upgrading your boiler or your water system.
Read more about power showers and water systems in our Installing a Power Shower project.