Electrical Safety in the Home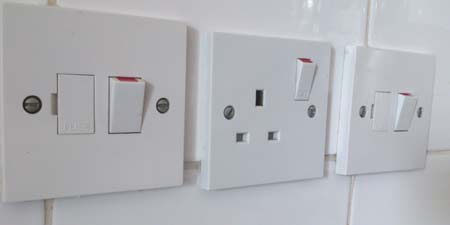 ELECTRICAL SAFETY –  ASK THE EXPERTS
DIY Doctor is joined today by Tony Cable who is spokesperson for NICEIC (National Inspection Council For Electrical Installation), the UK's leading regulatory body for the electrical industry. He is going to answer questions about electrical safety. If your questions are not answered here you can look at our electrical projects on the main website, or you can ask questions in our DIY Forum.
I have recently moved into a new house but I wanted to check the electrics are safe and up-to-date. Could you advise me on how to find a registered electrician?
Tony Cable, spokesperson for NICEIC, the UK's leading regulatory body for the electrical industry, comments:
"When moving into a new home it can be very easy to get carried away with new furniture and decorating, but ensuring electrics are intact, safe and up-to-date is vital. Always remember alterations and additions to electrics need to be done before decorating.
"To find a registered electrician in your area, I would recommend going to NICEIC.com, where you can find a register of approved electricians local to you.  It's always best to get a competent electrician to check over the electrics and make sure you ask the previous occupier to see any reports or certificates for any recent work carried out which will confirm the electrical installation has been tested and is safe to use.
"If they cannot provide you with this, you may need to get an Electrical Installation Condition (EICR) Report, which will spell out any work that needs to be done.  The report will probably cost you, but it's a small price to pay for safety."
What should I ask a registered electrician before the work is carried out?
"We always suggest homeowners should get two or three quotes for the work and ask the tradesperson to really spell out what is included in that quote.  That way, both parties are aware of what work will be carried out and also the expected cost involved.
"Once the work has been completed, the tradesperson will then issue a certificate to declare it has been carried out to the correct standard and is compliant with UK Safety standards (BS 7671).  If necessary, a separate notification will then be given confirming compliance with Part P of the Building Regulations.  This will ensure that any work is legal and more importantly, safe."
If I wanted to carry out any electrical work in my home, what am I permitted to do?
"While it may be tempting to carry out your own electrical work, we would never advise you to do anything apart from changing your own light bulbs. The first thing to always remember is that when it comes to electrics, DIY stands for 'don't involve yourself'. The only way to know that electrics are completely safe is to employ a competent tradesperson, who is registered with a government approved scheme such as NICEIC."
Homeowners looking for a registered tradesperson in their area should visit www.niceic.com
DIY Doctors Instructional Videos
You can also watch a series of videos about domestic electrics, just click on the video below to see part 1.