10 Tools Every Home Should Have
What tools should everyone own in a basic tool kit? What tools should I buy as a starter set for a new homeowner? These are questions we are often asked at DIY Doctor so we thought we would give you a basic list of tools that every home should have, as we see it.
1. Hammer
A hammer is something that most people will have in their toolbox, even those with no DIY skills are likely to have hammered in the odd picture hook, and a lightweight hammer will be fine for these jobs. Bear in mind that you will need a heavier hammer for jobs like removing a wall than you will for light work like putting up pictures. Pick a hammer that feels well-balanced in your hand to make it easier to use, however heavy it is.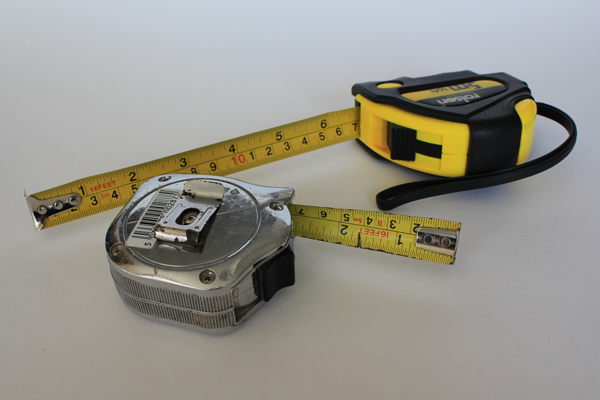 2. Tape measure
These come in all sizes, and different lengths. The most useful domestic tape measure will be one of 5 or 8 meters. It is worth investing in a heavy-duty tape measure, as this will be easier to use, because they are less prone to twist and buckle, when they are extended.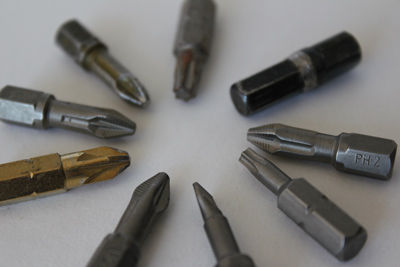 3. Screwdrivers
Now which screwdrivers to buy for your domestic tool box is a list all on its own, but briefly we would recommend getting a set of screwdrivers of different sizes in both flat head and cross head designs.
You can also buy sets of really small detail screwdrivers which are useful for replacing batteries in battery-powered toys and other gadgets, quick repairs on glasses if you wear them and vehicle repairs.
Finallywe would certainly recommend you buying an electric drill driver. Again you can get a range of sizes of bits, for flat head and cross head screwdrivers, drill bits, allen keys and socket heads. Even if your DIY only extends to putting up flat-pack furniture you will find this makes the job so much easier than using the cheap tools that come with the pack.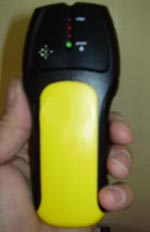 4. Wire detector
If you are going to put anything up on a wall – either by drilling or nailing it you should make sure you are not going to drill straight through a pipe or electrical cable. Use a detector to keep you safe and prevent any electrical disasters or floods!
5. Spirit level
If you are going to make, build, or attach anything, it always looks better if you get it square and level. Many people use a spirit level that is a bit short for what they are doing, simply because it is easier to store, but very small spirit levels – known as boat levels – can give less accurate than a longer level. The one we use most frequently is 1m long.
6. Knife and 7. Metal Ruler
A craft knife, also known as a hobby knife or Stanley Knife, is a very useful tool. Some have blades that can be snapped off as they get blunt, other have blades that can be replaced. We like the ones with replaceable blades because they tend to be more sturdily made, and they fit nicely into the hand. The fact that it is easy to hold can make a real difference if you are using it over a long period of time, such as cutting vinyl flooring. The blades usually retract to keep them safe although some fold up to protect the blade. Add in a metal ruler to allow you to cut in a straight line, and you can buy a cutting mat, or use an old piece of timber to protect whatever surface you are working on (maybe we're cheating, getting an extra tool in here).
8. Paint brushes
Well, we are going to cheat a bit here too and make this a whole decorating kit if we aren't careful, so for quick touch up jobs and even for dusting out small areas a small pack of brushes is great (featuring a range of different sizes) but if you are decorating you will also need  scraper, filling knife, sanding block, paint brushes, paint roller and tray, dust sheet and if you are wall papering a pasting table and paste brush – we won't go on, just check out our decorating tools bargain bucket for a list and pictures of what you will need – you can buy it online too.
9. Saw and/or Hacksaw
You can buy saws for different jobs around the home depending on whether you are cutting timber, metal, laminate flooring, or plastics. Find out more in our tools section. You may find that a general purpose saw, known as a Jack Saw, will suit your needs. But which ever saw you use you should make sure it is sharp, and that the blade is protected form rust, or from doing or receiving any damage while it is stored.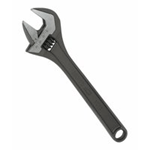 10. Adjustable spanner (or two)
Having a pair of adjustable spanners means that you can loosen or tighten nuts and bolts of all shapes and sizes. Hold the bolt tight with one spanner and turn the nut with the other. By adjusting the spanner to the correct size you can ensure the spanner doesn't slip and damage the fixings, the fitting, or you knuckles!
Why not visit our DIY Superstore for a great selection of tools?