5 Tile Designs you might not have thought of for your home
Tiling gives great effects in areas that need to be waterproof, or where they need to be easily cleaned. However we thought it was worth pointing out the very different effects you can get by mixing and matching tiles to produce patterns, pictures and shadows, which you might not have considered.
We have tiling projects and videos on the main site to help you with the practical side of fixing tiles to the wall, or floor, and a guide to grouting tiles but we thought a bit of style inspiration might not go amiss. We have put together five of our favourite tiles to start you off.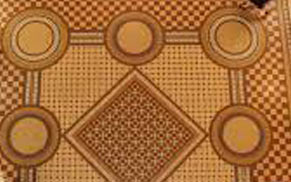 These hexagonal tiles are a mixture of plain and patterned tiles. the patterned tiles come in various different styles, and these can then be mixed up to give you a completely unique design. They can be used on the floor, like these ones above, or on the walls.
Obviously the first picture is bang on trend with geometric designs being really in vogue at the moment, but you may prefer to have something more personal or quirky in your bathroom or kitchen. You might like to have a mosaic or even printed tiles like this fabulous duck to make a design statement that is timelessly your own. You can get digitally printed tiles online from companies like Your Perfect Canvas and Johnson's Tiles.
If you are tiling a wall you can afford to go for something with a very textured finish like these great tomato red-coloured tiles which can be laid to give a wave effect, or turned in on themselves to give a ripple effect like they are in the picture above.
For a more subtle design these beautiful handmade tiles from British Designer Karen Ledolley-Smith. She now lives in France, creating tiles that are very much influenced by the natural structure of plants. See all her tile designs at KLS Design. While not cheap each tile is a work of art, and so you can set them in between plain tiles to provide visual space around each one, so you can really appreciate their individuality while keeping costs down. Also bear in mind that once tiles are on the wall they should last for many years so why not pay a bit more to get something that you really love rather than something that will do?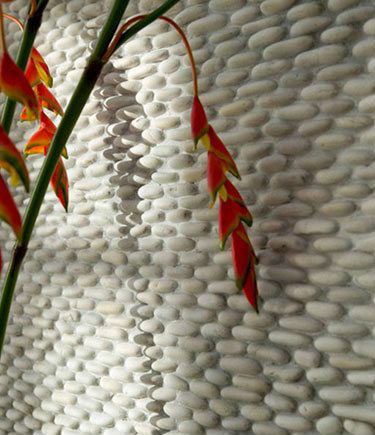 These White Pebble wall tiles from LivingHouse, are fantastic for bathrooms which are inspired by natural materials. Consider how these tiles will look when teamed with a wooden bath tub and slate flooring, what a great room to relax and unwind in! They are easier to fit than you might think because they come attached to a mesh backing (rather than having to fit each one by hand individually).
To help you with common DIY jobs in the home, DIY Doctor has put together a selection of tool buckets that represent great value for money. They have all you need for each job – tiling, decorating and plastering. In the DIY Doctor's Tiling Bargain Bucket you will find everything you need to be able to get the great tiling effects we have shown you on this page. The tools are a professional standard, but the prices won't break the bank. This kit costs just £45 – click on the image for more information.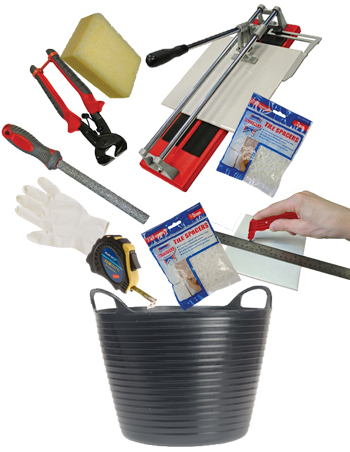 If all this has got you int mood for tiling a bathroom or shower room why not find out about installing a power shower while you are revamping you bathroom?