Loft Boarding System Gives You Great Loft Insulation and Maximum Storage Space
In yesterdays blog we discussed the fact that a loft full of suitcases which are squashing down the loft insulation is about 50% less effective at keeping the heat in your home as one without the suitcases……But the suitcases have to go somewhere as is clearly shown by a survey commissioned by a UK start-up company LoftZone who specialise in providing solutions for loft flooring and roof storage
The survey of 6000 people of all ages showed that:-
82% of the population use their loft for storage of some kind
78% of these say they are using over 50% of their available loft space for storage
Clearly most of these (76%) say this loft space is essential to them.
This resulted in 65% of them making sure their loft was either fully or partially boarded out.
The survey concluded that only 1 in 10 of the 23.3 million homes in the UK is getting any benefit at all from their loft insulation, if indeed they have any!
Clearly, as explained yesterday, people are simply squashing down insulation with either suitcases or loft flooring without realising it is affecting their energy bills in quite a big way.
LoftZone, a company supported by the Carbon Trust set about putting this matter right and have introduced a great new way of flooring a loft which allows the home owner to install the necessary 270mm of insulation without losing any of the benefits.
The logic is simple….If the loft flooring squashed the loft insulation to the point where it is useless, clearly the floor has to be lifted up! This is exactly what they have done.
As well as having the best thickness of insulation in your loft or attic, it is important to have a good airflow around the loft space also. If any heat does get through the insulation it will be carrying moisture with it. If this air then hits a surface which is cooler, it will condense and the water will run down the surface, eventually soaking into roof timbers or plasterboard ceilings. This may not be too bad if it happens on the underside of the roof where you can see it, but if it is happening on the underside of your loft boarded floor, where you cant see it, al sorts of damage could be occurring.
The StoreFloor system from LoftZone prevents this happening by allowing adequate air space between the loft boards and the insulation.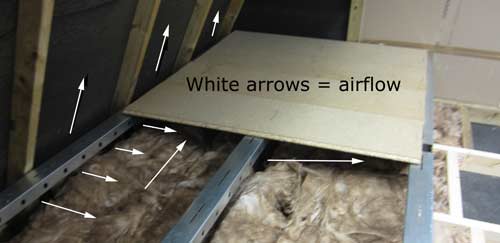 By introducing StoreFloor into your loft you can increase the efficiency of your loft insulation by 50% which is not an insignificant amount! Support brackets are fixed to the existing ceiling joists,and these are joined together by lightweight steel cross beams which easily screw into place. The new loft floor is laid over these beams and a new loft floor can be installed in a few hours.
Take a look at the DIY Project page DIY Doctor has written regarding the best way to install 270mm of insulation in your loft. There is also a video there, and on YouTube explaining how to fit a loft flooring and storage system.
http://youtu.be/8iYIiQL-sa4