DIY Doctor Solves Problems When Working Up a Ladder
Does this problem look familiar?
If you have to work from a ladder you should make sure your ladder is safe and secure. We look at ways to stay safe when working at height.
DIY Doctor's Solution
We aim to bring you solutions to your DIY problems, this includes introducing you to products and gadgets to make your job easier.
Support at the bottom
You should always make sure your ladder is properly supported at the base. You can use ladder mats under the ends (or stiles) of the ladder, to help hold the ladder in place, even on slippery, soft or uneven ground. This type has four mats that are secured by strong metal links to make sure they do not slip apart. They can be stacked under one stile to make sure it doesn't wobble.
Support at the top
Make sure the ladder is stable at the top. If you are cleaning gutters where there is an overhang to get over, or you have to work your way around a soil pipe while you paint a window, then you will have come across the problem of getting your ladder firmly against a secure surface to make sure the ladder stays in place while you are up there.
Using a Top Support on your ladder helps to ensure that the ladder is firmly located. The supports in the image below can be angled so you can adjust the distance between the ladder and the wall, and they are also height adjustable.
Don't get too tired
Using a working platform allows you a bit more space to stand while you are working from a ladder. As you know if you are standing on the rungs for a long period of time it can be very tiring for the legs and feet. Fatigue is actually quite dangerous as you are more likely to make mistakes and have an accident if you are tired.
This platform (pictured below) attaches to the ladder to give you a horizontal surface to work from and can be fitted to a height that suits where you are working.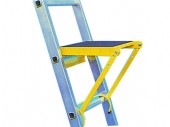 While we are on the subject of being tired, if you are not used to it, make sure you take a break when working off ladders, as it can be very strenuous. It is better to work in short burst rather than spend a whole day up a ladder, and then be aching for days afterwards!
For more information on ladder safety visit our Projects Section.
All the products featured are available at our new DIY Superstore. Click on any image to go see that tool or click here to see our full Store with a great range of tools, materials and products to help you build and DIY.
If you would like to follow us on twitter we are @DIYDoctor and use #DIYDoctor to find our current tips and tricks.
Still image taken from the video: Health and Safety Officer falls off Ladder – Thanks guys!