Easy Drilling Porcelain Tiles and Ceramic Tiles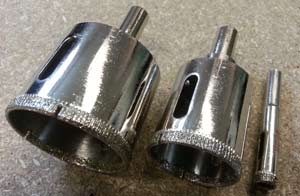 Porcelain tiles have become very popular in the last few years because this type of tile gives a fine, luxurious feel and hard-wearing finish, but the very dense structure of the tiles can make the job of drilling porcelain tile a bit more difficult than drilling ceramic tiles. Porcelain tiles also tend to be thicker than the standard ceramic tiles.
Drilling into Tiles
This means the best option for drilling into porcelain tiles is to use a diamond drill bit, or where a bigger hole is needed, a diamond core drill bit. You would use this type of drill bit when you need to drill a hole to get pipes through tiles.
Normally a core drill will have an arbour, with a central 'pilot' drill bit to drill into the middle of the hole which, in effect, holds the core bit in place while it grinds into the tile with the outer edges. The problem with this method is the pilot drill can more easily slip and scratch the tile or even crack the tile. This problem has been addressed by an ingenious product which has been developed by 365 Drills (pictured below).
This system does away with the central pilot drill by using an external guide-plate with an anti slip backing, for their diamond drill bits. In the image above you can see the workman using a guide plate to centre the hole he is drilling through a porcelain tile
Diamond Drill Bit Guide Plate
If you want to drill close to the edge of a tile or if you want to increase the size of an existing hole in a tile it is very tricky with conventional core drills. But you can do either of these with the 365 Drill system because you use the guide-plate to keep your hole in the right place rather than using the core drill bit to do so. Using a guide to position your drill means you can overlap the holes you want to drill and you can drill right to the edge of tiles.
With the 365 drilling system however, you can. This is achieved by the unique idea of doing away with the guide drill in the centre of the core bit and using a guide plate to stop the drill bit slipping over the tile. Because there is no centre guide drill so the drill holes can be overlapped and taken right up to the edge of tiles.
Best Drill Bit Sizes for Tiles
If you are doing it yourself you need to have a few drill bits to allow you to drill holes for various pipes and fittings. The ones below are what we suggest will be the most useful drill bits for the DIY or Home Improver.
6mm (x2) diamond drill bit for red wallplugs – useful for holding up bathroom fittings like toilet roll holders and mirrors. See our Fixing to Masonry Project for more information on which wallplug to use where.
8mm (x2) diamond drill bit for brown wallplugs – for heavier items like the toilet cistern.
16mm – for 8mm to 15mm copper pipes – these are the pipes which carry water into the bathroom or kitchen.
30mm – for 22mm copper pipes and tap connector pipework – these are the pipes that carry water into the bathroom to supply the bath
40mm for plastic drainage pipes from basins, showers and baths and larger holes for toilet wastes etc, which can be made by overlapping the holes made by the drills.
You can buy all these sizes of drill bits we have listed above from your local DIY store as traditional tile drill bits and core bits. They can be bought individually or as a set, but you can also buy a complete bathroom set containing all the drill bit sizes you need and the non-slip guide plate from 365 Drills – Porsadrill Tile Drill kit available online for £49.99(see below).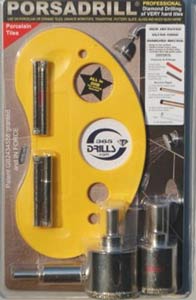 For a full explanation on how to drill tiles using a diamond drill bit visit our Porsadrill tile drill bit project which guides you through the process.
Find out more about Diamond Tipped Drill Bits from 365 Drills here. 365 Drills are offering a gift for DIY Doctor customers so click through to find out what you get for free!!
See our video which shows how to easily cut through diamond tipped drill bits as they cut through porcelain tiles.