Eco Solutions Cleaned up at the National Home Improvement Show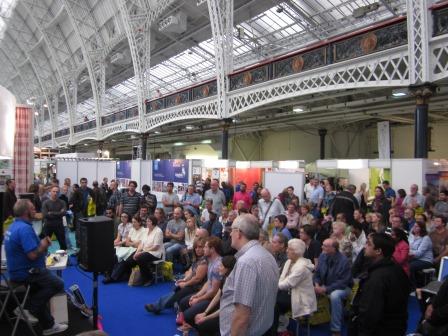 As regular readers know we were asked to present at the at the National Home Improvement Show at Olympia last week. We appeared at the Tricks of the Trade Stage, and if you came along to the show this year you will know we gave away some prizes after the presentations.
We asked Eco Solutions to supply us with some prizes and they kindly supplied some of their solvent free products for the crowds to try to win. The prizes included Homestrip and Tradestrip products that are promote as 'Science not Solvents', because the products do not contain harsh and harmful chemicals, but all natural ingredients that do not cause skin burns or create harmful odor.
Eco Solutions have been an advertising partner of DIY Doctor's for many years, and we are very pleased to be able to work with them in this way, because we know their products work even though they are kind to the environment and kind to your skin.
One of the most popular decorating questions we get is how to remove or cover Artex and Eco Solutions have a great product to 'dissolve' Artex and make it easy to scrape off. For a guide to removing Artex go to our projects section, where we explain various ways of getting rid of Artex by removing or covering it.
Come to find us at the Northern Homebuilding and Renovating Show where there will be more Eco Solution Prizes to win.