Silent Killer in Our Homes is Easy to Spot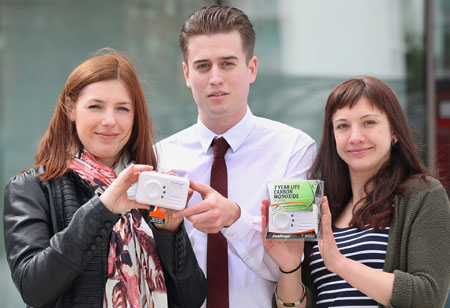 We were very moved to read about The Katie Haines Memorial Trust set up by Katie's husband and parents following her death as a result of Carbon Monoxide poisoning in 2010.
Lucy Chant was a close friend of Lucy's and is one of the trustees. She is a school teacher from Manchester,and the aim of the trust is to educate the rest of the nation about the symptoms of Carbon Monoxide (CO) and how to stay safe from this silent killer in our homes.
Lucy Explains "I know only too well what the devastating consequences of carbon monoxide can be. My lovely friend Katie Haines may still be here if she had known the dangers. Katie was 31, newly married and the happiest I had ever seen her. One evening in February, 2010, Katie got home from work, fed the cat and ran a bath. She got into the tub for her soak, but didn't get out again. My kind, fun-loving friend had succumbed to the silent killer, carbon monoxide after fumes had leaked from a malfunctioning boiler."
Scotland has already recognised that the best way to deal with it is to legislate. It is now compulsory to fit a CO alarm whenever a fuel burning appliance is installed.
It is so easy to fit a carbon monoxide alarm, in fact it does not even require any DIY skill at all. Detectors can be battery or mains powered, and they can even just change colour on detecting the presence of CO, however we would recommend that you choose one with an audible alarm, to make sure you don't miss the signs. This is backed up by the consumer magazine Which – See their article on Carbon Monoxide detectors.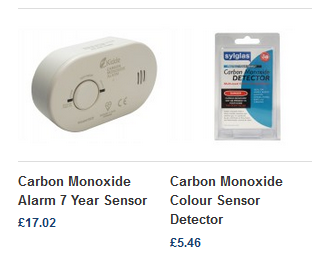 A search of our DIY Superstore shows that a battery powered CO detector is less than £12 more than the colour changing type, an amount that is well worth paying. Click on the image to see the full range of detectors.

For more information on the causes and symptoms of CO poisoning visit our projects section.
During the Gas Safety Week the Carbon Monoxide – be Alarmed! Campaign revealed some worrying statistics on how many people have potentially dangerous heating appliances. In March, The Katie Haines Memorial Trust joined the Warm Homes, Healthy People Project (WHHP) in Trafford, Manchester, together with Sprue Safety Products to donate 50 FireAngel carbon monoxide alarms to vulnerable local residents (pictured above).