Roofing Problems – Identify Vulnerable Areas of Your Roof
This roofing video guide is looking at the areas of your roof that are likely to suffer from damage caused by wind and rain.
Storm Damage to Tiles
Storm damage can affect any of the tiles on your roof, including the ridge tiles. Where there is damage to the pointing on the ridge tiles they may need to be repointed providing the mortar is just weathered, however where the ridge tiles have become loose they need to be removed and rebedded, to create a more permanent repair.
See our project on the Causes of a Leaking Roof for more detailed information.
If you are working on ridge tiles or chimneys you might need to use a roofing ladder or a pair of roof hooks, which you will find in the ladders section of our DIY Superstore.
Damage to Flashing on Chimney Stacks
As a roof ages there is likely to be movement in the timbers and even the walls which can in turn cause movement to chimney stacks. The lead flashing surrounding the chimney stack is especially vulnerable to water ingress if there is movement. So if you can see there are cracks and gaps appearing around the flashing the area will need to be repointed.
In the video we point out an area of 'step flashing' where it is likely that the mortar will need to be raked out and repointed to make it weatherproof again.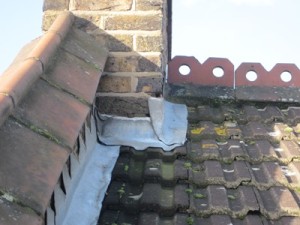 Leaking Roof Valleys
Roof valleys can start to leak where tiles are dislodged or where mortar starts to crumble away. Debris building up in the valley can then cause rainwater to be forced up under the tiles especially during storms where there is driving rain.
You will notice this inside the house as damp or discoloured patches on the bedroom ceilings below.
Verge tiles are the tiles at the end of the roof, and these are also bedded onto sand and cement. These verges are very vulnerable to frost and water damage, and when this occurs they will need to have the mortar raked out and replaced.
See more about roofs in our DIY Projects Section.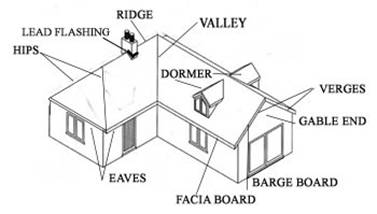 Don't forget that if you or another tradesman are carrying our work on a roof you will need scaffolding to be able to work safely at height.
Find vetted and qualified roofers and scaffold companies local to you in our 'Find a Tradesman' Section.
We also have lots of other DIY Video Guides on our You Tube Channel.