Build a Bird Box For National Nest Box Week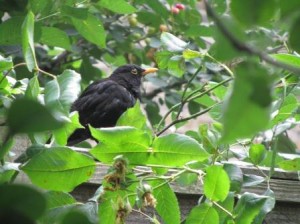 It's National Nest Box Week!
The British Trust for Ornithology (BTO) are keen to let us know about National Nest Box Week on their website. To get your garden ready for all our feathered friends you can build a bird box yourself or buy them ready made. Either way why not celebrate National Nest box week by installing new nest boxes in your garden?
If you encourage bird life they will return the favour by eating lots of garden pests for you – reducing the amount of greenfly, caterpillar and slug patrolling you will need to do later in the season!
Nesting birds will get through a large number of garden pests as they maintain a steady flow of food for their chicks.
Blue tits love aphids and caterpillars, and garden thrushes will happily eat snails and slugs. In fact you can often tell you have a thrush about when you find its 'hammer stone' where is bashes open the snails on a rock to get at the food inside!
Build a Nesting Box for your Garden
It is quite easy to make a nesting box, and we have some easy to follow instructions on our website.
You will need a plank of wood, or several scraps of wood. If you are using one piece it should be around 150mm wide, 15mm thick and 1500mm in length.
You will need to make a hole in the front that suits the species of bird you want to attract into your garden (see below).
You can decorate your bird box any way you like. Just make sure you use non toxic paint, and then finish the decorated box with a couple of coats of yacht varnish to make sure it is weatherproof.
When you are deciding how to decorate your bird box you can simply let your imagination run riot – use foliage, insects, fruit, geometric patterns, or anything else that you like as inspiration for your design.
If you have a go at making a bird box, we would love to see the results. Feel free to send pictures in or share them with us on Facebook or twitter @diydoctor.
DIY Doctor Sponsors Bird Box Workshop
DIY Doctor is really pleased to be sponsoring a Build Your Own Nest Box workshop at Deen City Farm this weekend Saturday 15 February 2014. This is a free event which will allow you to have a do at building a nest box. Tools and materials will be supplied. No need to book – see how to get to Deen City Farm.
Bird Box Hole Sizes for Different Species
Different birds like different size holes for the entrance to their nesting box:
– Blue tits like a  25mm hole and so do coal tits, and marsh tits.
– Great tits like a 28mm hole and this will also attract tree sparrows and pied flycatchers
– House sparrows like a 38mm hole, and they are happy to live in colonies if you don't mind building a few houses.
– A 38mm hole is also suitable for nuthatches.
– Blackbirds and thrushes will be quite happy of you leave the top half of the front open.
Blackbirds will also nest in other objects suspended in trees and hedges, such as old watering cans, and you may even get wrens nesting in them, if the bigger birds don't get there first.
You can click on the image below to see our build your own bird box tool kit bundle – simply pick the tools you need to add to your own tool kit for the project.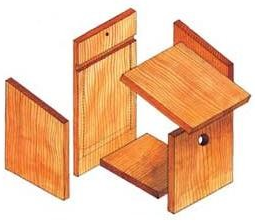 See other ideas for getting birds into your garden on the website.