DIY Doctor Gets to 2 Million Video Views on You Tube – Thank You to Everyone Who Supports Us
DIY Doctor is proud to be helping with Home Improvement tasks across the whole UK with the Help of You Tube Videos
You Tube has enabled us to bring our DIY help and building expertise to the entire nation – and even the world via our videos!
We are so proud to have the greatest followers, and loyal customers, who have visited the site over the years. They are now taking advantage of our free DIY video tutorials, product reviews and tool videos which help you to choose the right tool for the job in our DIY Superstore.
Two Million Views on You Tube
This weekend we bust the 2-million mark and as we write we have had 2,014,260 views!
Thanks to all of you who helped us over this milestone, we really appreciate your support.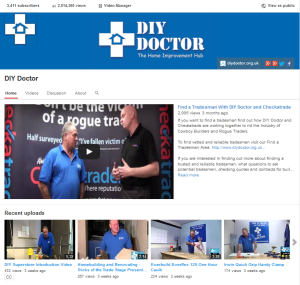 We are really pleased that so many of you like our videos and keep coming back for more, don't forget you can subscribe to the You Tube Channel – just click on the picture above.
Get the Right Tools and Get the Job Right
Our ever-growing range of free video DIY tutorials and product reviews help you complete Home Improvement tasks, and choose the right tool for the job. DIY Doctors Videos are available on You Tube and on the DIY Doctor website either in our online tool store to help with tool choices, or on the How-To project pages which has information on loads of popular Home Improvement jobs, depending on where they are most useful.
If you want a sneak preview of new projects, How-To guides and video tutorials you can sign up to our newsletter at the top of the page.
Finally if you have any suggestions for new videos or guides (or anything else you think we should be covering), please do let us know by hitting the button below!