Get Prepped for Winter – DIY Driveway and Pothole Repair
Winter Weather is Harsh on Driveways and Roads
Winter is here, so while some of our streets look like classical English countryside postcards others are sinking under the waves.
Unfortunately, these idyllic landscape scenes and harsh weather conditions leave an array of potholes waiting to destroy vehicle suspensions the length and breadth of the country.
It may seem of little concern to merchants specialising in building and refurbishment materials, however it could mean an opportunity to provide much-need repair materials to DIY'ers.  Why miss out?
As the topic of potholes triggers many a TV and radio debate during the winter months, builders, contractors and consumers alike will be driving the demand for cold-lay repair products for private roads, driveways and pavements.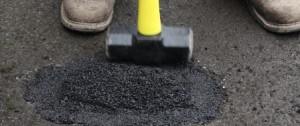 DIY Pothole Repair Products
We speak to Ruth Sperring, Commercial Sales Manager from i-fix® about their repair products, which are suitable for the DIY market and the trade:
"As the UK market-leader in the production of such materials, with no less than 35 years of experience, we have now made available our Pothole Fix, as part of our i-fix® range of driveway repair products.
We know all too well the problems these holes cause in tarmac/macadam surfaces, and following extensive market research, we have learnt that the general public do too."
Driveways are gradually destroyed following freeze-thaw weather cycles, highlighting the need for rejuvenation and repair. Many a handyman and local contractor are now being asked to make such repairs, following the damage that harsh winter's leave behind.
Their i-fix® Pothole Fix comes in a handy tub, allowing merchants to store it easily indoors or out. It can be applied in minutes, driven on immediately and any unused material can be re-sealed in the tub and used at a later date.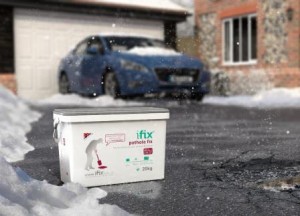 Grit and rock salt are no longer the only winter essentials – pothole repair products are rapidly pushing their way up into that list, and Merchants will be the first port of call for many seeking these simple solutions.
Pothole Fix has been used in highways around the world for years, and has independent accreditation to boast its capabilities.  This experience is now available to merchants to sell direct to the public.
As they put it "We can't guarantee the weather, but we can guarantee our products."