World Book Day versus the DIY World – Our Top 10 DIY Books in the World
World Book Day – Celebrating Books
Thursday 6th March is World Book Day, and there will be lots of quirky people dressing up and doing strange bookish things. Your stereotype of the average DIY enthusiast couldn't really be further from a potential World Book enthusiast, but that's not going to stop us – We're getting involved too!
This is our recommendations for the best DIY books out there on the market, but please have a look over our bookstore section for more recommendations and books organised into the specific DIY topic you need.
The DIY Doctor Top 10 DIY Books:
1. The Complete Visual Guide to Building a House: This is a great visual book ideal for building a house. It's a little 'North American', but that doesn't mean that there isn't lots to learn and understand. The graphical presentation is the big seller for us – we like pictures!
2. The Garden DIY Expert: There are masses of gardening books out there, and they are generally all really good. This one appeals to our practical nature and has some great ideas as well as plain old gardening advice and tips.
3. "Which?" Book of Wiring and Lighting: The "Which" books are generally a pretty good read and make a typically dry topic light enough to understand. They can be a little thin at times and this book is no different, but it will give the DIY enthusiast more than enough to get most projects done.
4. Electric Wiring: Domestic: We love this book and advertise it across many of the pages of our website, where we have had some assistance from the author checking our projects. This is a comprehensive guide to wiring in a domestic setting, perhaps a little dry, but that is the subject!
5. Carpentry Complete: Expert Advice from Start to Finish: This is comprehensive advice for most aspects of carpentry. We think it's a great reference book and a great one to turn to when you get stuck or are looking for ideas how to get a project done.
6. Cute and Simple Woodworking: This is a great little book for simple projects, perhaps with the kids – which is ideal for the World Book Day concept. They're all simpleand you don't need a fancy workshop or tools so it's a cheap way to get started with DIY and wood work – we love it.
7. Plumbing: This is a really comprehensive book, and so it should be being one of the NVQ text books. Don't let that put you off, it's got everything you need to know and isn't too hard to follow. It's into its second edition too.
8. Roof Tiling and Slating: A Practical Guide: This is a shortbut excellent little book packed with seriously practical roofing advice and tips. If you had to go near a roof (and can't get to our roofing section online) then take this book with you:
9. Farrow & Ball: Decorating with Colour – Interiors from an iconic heritage brand certain to inspire creativity in all home decorators: OK, we are a little surprised about this one too! But there is something about getting your colours right and understand which paints to use (even is they are seriously pricy) that can really 'make' a room. Most of us normal DIY human beings don't generally get this. This book is eye opening – and as part of the aim of World Book Day is to open your eyes we're doing it.
10. Master Basic DIY: This is a bit of a blatant plug for our own book, but we wouldn't have written it (or let the second edition be printed) if we genuinely didn't believe that it was the best all round DIY Book on the market.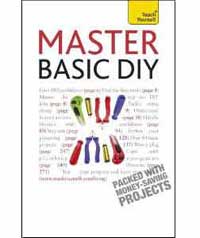 Now that books are getting outdated, and many people prefer to get their advice and information online nowadays, it is good to remember that books are still useful. Please keep using all the advice that we have online, but don't forget the trusty book.
And into the future, video is coming. We have a great video channel on YouTube with lots of information, tips, product reviews and much more – go and check it out!