Cure the Problem with Slipping Screws with this 3 Step Guide
Do you recognise this problem: You are trying to remove screws from a piece of timber, or other material, and the screwdriver just keeps slipping until the screw head is a mangled lump of (nearly) molten metal?
Why does this always happen to you?
Well it can be as easy as 1-2-3…
1. Wrong Tools for the Job
You have been using the same screwdriver bit for all the screws you have ever put in/taken out of anything that needs screws.
Screw driver heads have different sizes depending on the size of the screw. While this won't be immediately obvious if you are using size 8 and 10 screws for a small job, it will be over time especially on a larger scale job.
For Instance, if you are building a deck or putting up stud walls, and alternating between putting up battens and screwing up plasterboard, you will notice that it is much easier if you use the right size drill bit.
2. More Haste Less Speed
We are all guilty of feeling the need to rush, rush, rush. The problem is if you are in such a hurry to get the job done you are likely to be making it harder for yourself.
If you are going to be screwing a large number of things to other things then, a  bit of planing goes a long way.
Drill pilot holes first (and countersink too if you like?) – this means drilling a thinner hole in the same place that you are going to screw your screws, this will allow you to do it much more easily.
Countersink your screw heads to get a neater finish by using a countersink drill bit after you drill your pilot holes. The screw head will then sit below the level of the surface you are drilling into. OK, this doesn't speed up the job or make it easier, but it will make you happier with the finish! See our drill bit product review.
If you are doing a large job then use two drill drivers, one with a drill bit in it and one with the correct screwdriver head in it. This way it saves you time changing backwards and forwards between different bits in your power tools.
If you don't have two drills then buy, borrow, or hire another. You will wonder how you ever managed with just one – it a bit like having two computer screens to work on, it seems like a luxury until you've tried it!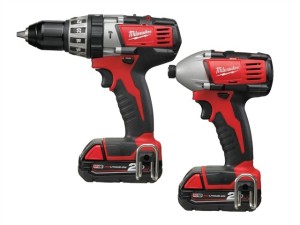 3. Sometimes you have to Replace Your Tools
I know you get used to saving money and reusing things, but sometimes you just have to replace tools that have worn out, or done their bit in your toolkit.
Screwdriver and drill bits do wear out. Drills become blunt over time, and screwdriver bits wear so that they slip when you have them in the screw head.
Using the wrong size screwdriver bit for the screw you are using will also cause greater wear on the bit, so as mentioned above, it is best to use the right size for the screws you are using.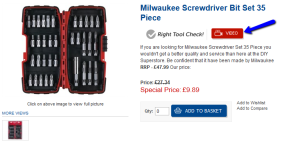 We are adding videos to all the tools in our DIY Superstore so you can see them in action, and we also tell you what we think of them.
The picture above shows a Milwaukee 35 piece drill set (which is on special offer until May 2014) – you can see that there is a video link included in the description when there is one available. So there is now no excuse for using the wrong size bit.