The 5 Key Things to Look Out for When Choosing a Waste Disposer
Waste Disposers or Waste Disposal units are a fantastic way of getting rid of food waste easily and without any mess. Basically they are a grinder that sits in under your sink, that mashes up all the food waste, so that it gets washed out when your sink drains away.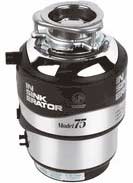 They are hygienic and environmentally friendly – the food waste is disposed of immediately and will be treated at the waste water plant where the solids will be extracted and recycled.
These are the top 5 things you should look for when you are choosing a waste disposer, and trying to work out your budget:
1. Cutter Quality: There are two cutters inside the waste disposal unit that cut and mash up the food. The more lightweight these are, the less robust the unit will be, but also the cheaper the unit will be. The cheapest waste disposers have galvanised cutters, more expensive ones have stainless steel, and the top of the range will have cast iron.
2. The Type of Feed: This is how the food waste is put into the unit and there are two basic designs;
Batch Feed: This uses a special stopper to push the food into the unit and down the sink plug/drain. The unit will not work without this in place. It disposes of the food in batches and it is safe, especially if there are small children in the household, as it will only work when switched on and the stopper is in place.Caption: Using a stopper to dispose of waste
Continuous Feed: This type works whenever there is food in the unit and the water is on (and it is switched on). It will keep going until all the food waste is mashed up and disposed of.
3. Size and Space: Make sure that you have enough space to fit the waste disposer that you want, and make sure you leave enough room to be able to access the overload or reset button that some units have on the base. This might mean that you have to get rid of the shelf underneath the sink, or modify it to get the unit in.
4. Waste Disposer Switch: How do you want to turn the unit on and off, and please note that this also applies to the continuous feed type as they have to be switched on before they will work, for safety reasons. There a number of commonly used options:
Switched, fused spur – Using a "spurred" or branched, electricity supply from an existing socket or accessible part of the ring main to fit a switch which contains as fuse (and often a little red neon light which indicated on and off positions). This is ideal if you have a location for the switch which is accessible, and safe from water ingress.
Air Switch – This is a switch that uses air to trigger the unit to come on. This is ideal for fitting into the worktop as there is no danger should it become immersed in water, because the switch is not connected to the electric supply – see the picture below. This is great for situations where you are likely to have wet hands, and can be safely located right next to your sink.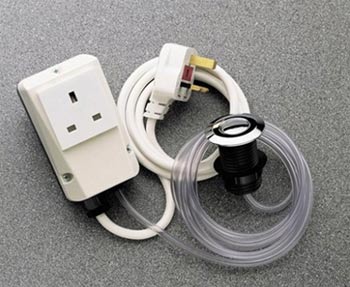 Remote Control Unit – This is safe and simple to install, and avoids the potential complexities of an air switch.
5.      Waste disposal unit motor size: The motor that turns the cutters needs to have enough power to deal with the waste that it needs to mash up.  The general consensus is that you will need a unit with a motor that is larger than 1/2 to 3/4 HP or 475 Watts.
Noise and Waste Disposers:
No discussion about waste disposers is complete without a word about noise; as some units can be very noisy, and no one wants a deafening din when they use their disposer.  There is typically a trade off between power and noise where the more powerful motors are noisier. Another factor is that there are two common types of motor used in Waste Disposers:
1.     Induction motors: These are generally much quieter, but might not be quite so thorough in cutting up the food waste.
2.     Permanent magnet motor: These run much faster and mash up the food to a finer consistency; so are ideal if your pipe work is long or prone to blockage.
The type of sink you have will also have a bearing on the noise levels. For instance a stainless steel sink will be noisier that a ceramic one.
Please read more about choosing, fitting, and maintaining waste disposers in our comprehensive project page. You will find there's plenty more information and advice about waste disposal units.
Pictures: With thanks to FitMyKitchen.co.uk