Our Forum is a Great Place to Get Help and Advice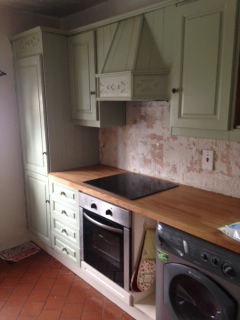 One of our users, Nick, is renovating an old cottage and he is fitting a new kitchen. He has written in to our forum to get some Interior Decorating advice from other DIY Doctor readers.
They want to keep a period look to the kitchen and have painted the units using Farrow and Ball paints to be in keeping with that idea.
However now they have mostly painted the kitchen cupboards they are not sure about the colour, and want to know what other people think. The pictures show the cupboards painted in Farrow and Ball's 'Vert de Terre'.
There are still some units to paint. Should they continue with the same colour paint, or should they break it up a bit, keeping a co-ordinated feel but just varying the tone of the paints they are using.
Also they are considering using Farrow and Ball paint for the walls but they don't know if using their original choice of 'James White' might be a bit cold for the final effect.
Lastly they are not sure whether to tile or not to tile, and if they do use tiles what colour should they go for. We would always recommend installing a splashback of some sort to protect the walls while preparing food, washing up and cooking. Of course there are other options, glass
If you like interiors or if you are in the trade and you have some tips for them please head over to our DIY Forum to give them the benefit of your knowledge.
We welcome new users, contributors and moderators for our forum so please do get involved.