In case you are wondering what DIY Doctor actually does, we thought that as a picture paints a thousand words we would make a video which describes in a nutshell what we do.
Instructional DIY Videos
Although our videos can be a bit tongue-in-cheek we take our jobs quite seriously and we aim to give anyone who is involved in Home Improvement, DIY, Conversion, self-build or small building works the advice they need to be able to complete the tasks they want to do, or to employ the right tradesmen to do the work.
We are always happy to help and we write hundreds of projects and How To Guides as well as shooting loads of instructional DIY videos.
DIY Forum
Where you need a more personal bit of help we have a free DIY Forum UK specific so the building advice and regulations quoted apply to you, and because we have loads of experienced builders and DIYers who contribute and moderate, we make sure the forum remains safe, free, and easy to use.
If you have suggestions for what we should feature in our next DIY videos, and let's face it we are up to most things whether sensible or just plain daft, you can contact us with your suggestions.
Social Media
You can also sign up for a regular update of what's newly published by subscribing to our You Tube Channel, following us on twitter @DIYDoctor, Like us on our Facebook page, see us on Pinterest and share on our boards, Add DIY Doctor to your Google+ circles or get updates, offers and news by signing up for our newsletter from our Home Page.
Online Toolstore
We have an online Shop that is full of tools and equipment for building work, DIY and Home Improvement and the tools are Trade Quality at DIY Prices.
Our tools are all endorsed by DIY Doctor and, as well as the usual manufacturers guarantees that you get from buying tools from our store, we also offer you help and advice on the specific job you are doing.
As we say
We do not sell cheap products – our goods are built to last and they are tradesman's quality tools. We are great believers in the maxim 'Buy Cheap Buy Twice' and we would always recommend that you buy a product that will last you for years rather than for one job at a time.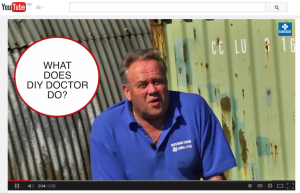 We help you make the right choice when you buy from our Online Toolstore, with our 'Right Tool Check' videos. We review each tool, and talk you through how you use it; including the pros and cons of one tool over another where appropriate. Bear with us while we film and upload all these though as there are approximately 29,000 different tools in our DIY Superstore, so it is going to take a while to get them all filmed and published.
If there is a video missing that you want to see us make, then send in your suggestions and we will put it to the top of the list!