Top DIY Tips To Consider When Selling A House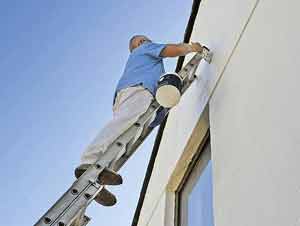 Preparing to Put Your House on the Property Market
Preparing a house for the property market can be an incredibly stressful experience, particularly if you're working on a tight budget, and the pressure that comes with last minute prep work can often force you to forget some of the most fundamental things that need to be considered before you start pursuing an estate agent…
The first thing, of course, is to really focus on getting all the little things right. People are often sidetracked by their desire to tear up all of the carpets, or radically redesign a room and while it's true that these things can often help to sell a house, the little details often have far, far more impact.
Fill in the Gaps
If you're focused on actually selling your house, put down the paintbrushes and crack open the flexible filler, then, carefully comb over your house looking for any small cracks or blemishes; any areas where the plaster has cracked and any areas where fixtures are starting to pull away from the wall. These small defects are very, very noticeable to people that are specifically on the lookout for any unsightly flaws, and you can fill them in a few minutes; just by applying a generic, powder –based filler.
Remember to sand the area smooth once the filler's dried though, and be sure to cover with a small splash of paint that matches your walls, otherwise you run the risk of just drawing attention to the flaw.
Be sure to fill any un-used picture holes as well – it might seem like a strange thing to flag up, but people really do hone in on these little details when looking around a property, and I've seen potential sales fall flat on their face because a potential buyers noticed something that leaves them with a negative impression of the property overall. At the end of the day, you'll never be able to predict the way in which a viewer will react to any perceived faults, so it's best to cover all of your bases
On the subject of minor details, it's also very important to remember the front of your property – I've already said that trying to focus on large projects like painting can be a waste of time, but sometimes a quick coat on the front door/window frames can really help to neaten things up, as can a quick weed in and around any drives or pathways.
Declutter and Clean up
Once the outside's looking beautiful, and you've ensured that there are no unsightly blemishes inside your house, the next thing to do is focus on any fittings – straighten pictures, make sure your mirrors are hung properly and do everything you can to unclutter the house so that you're maximising the amount of space on display. All of these things may seem like relatively minor considerations, but when you're trying to create the best possible impression, without spending an absolute fortune, they really do make all of the difference…
Finished? Congratulations! You've made a huge difference for very little outlay, just by making sure that you address the common problems that most people forget about completely. Once you've finished tidying up, and disposing of any junk/clutter that you don't intend to take with you after the sale, you're good to go.
Don't rush off just yet though – after you've put that much time into neatening your property up, and attending to the most minute of details, the last thing you want to do is rush into a sale without doing your own prep work on the financial side as well.
Choose Your Agent Wisely
The main tip that I have for you when it comes to actually putting your house on the market is this – do your research. There's no point learning how to get your property ready only to fall down at the stage where you want to sell your property.
The main tip that I have for you when it comes to actually putting your house on the market is this – do your research, especially when it comes to picking an estate agent. There's no point learning how to maximize your chances of selling if you're not also going to ensure that you pick an estate agent that's going to put comparable levels of effort and commitment into getting the right people through the front door.
Most now offer fairly competitive packages, but it's always worth shopping around to find out whether or not there are any offering special deals  – see for instance this yearly celebration deal from Squires which is for a good example; it might seem like a free EPC, a free floor plan and £250 towards legal fees is just a drop in the ocean, but at the end of the day, these small savings can all add up relatively fast; leaving you with substantially more money with which to start improving or upgrading your next property. The best place to shop around for estate agents is probably a site like netanagent.com which allows agents to bid for taking on your property, or Rightmove which is a portal site that many estate agents use. For those of you with the time to invest in some slightly more serious research, you might want to consider this useful article about estate agents' fees from the Home Owners Alliance too.
I know my parents saved a fairly substantial amount of money like this, and it can be a big boon to the moving process, particularly if you know that there's renovation work to be funded at the other end.
Once you've identified the estate agent that you want to go with, and finished putting all of of the finishing touches to your property, all that remains is to pick up the phone, and set the wheels in motion. Best of luck!
Author's Bio; This piece was written by Alex Bussey, a DIY enthusiast that was (un)lucky enough to be brought up in a series of renovation projects.