DIY Trick for Removing Mould Grime and Stains Including Grime Go Video Guide
Grime Go Removes Mould Grime and Stains
Grime Go is a heavy duty cleaner with a kind heart. It is Produced by Eco Solutions who make solvent-free cleaning and stripping products that are ecologically friendly. We like them because they are produced in the UK, they are safe and easy to use, and they really do work.
Eco Solutions products include eco-friendly Artex remover (see our project on Artex removal), and graffiti remover as well as paint and varnish stripper, and a neat product for restoring paint brushes that have become stiffened with dried paint called Brush Renew which we also have a video guide for.
Their latest innovation is Grime Go which can be used for household cleaning, and by DIYers and builders to remove almost any unwanted coating from almost any surface!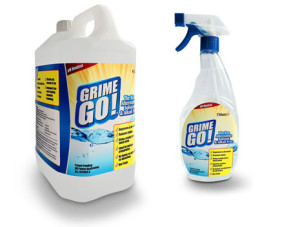 You can use Grime Go for preparing surfaces for painting. The area you want to paint or varnish must be clean, but should also be grease-free in order for the paint to adhere properly. See our project preparing woodwork for painting.
Grime Go is a Heavy Duty Cleaner
It removes grease and wax
It is a stain remover which will also remove paint splashes
Grime Go removes mould, grime, dirt, adhesive residue and much more
It works on internal and external surfaces
Plus it works on almost any surface, it won't damage the surface you are cleaning (take care on painted and varnished surfaces*)
No more flaking paint or bubbling and blistering paint caused by badly prepared surfaces
Using Grime Go gives you a similar effect to using white spirit but is kinder to your hands and to the environment
It is a water-based product so no nasty fumes or harsh solvents
Using Grime Go
Spray onto the surface you want to clean
Leave on for 1-2 minutes for grease, wax, mould or dirt
Leave on for 2-3 minutes for oil or heavy dirt and grime
Leave on for up to 5 minutes for stains or paint splashes
Use a nylon scourer to remove heavy residue, or simply wipe off to remove grease and grime.
*Just a note of caution – if you are using the product on a painted surface don't leave it on too long or it may start to remove the paint! (The clue is that it removes paint splashes so obviously…)
Like any cleaning product prolonged contact with the skin is not recommended and if you are removing anything potentially toxic using Grime Go you should wear the appropriate safety equipment (gloves, safety glasses and mask).
All the additional information and advice about Grime Go is available on the Eco Solutions website, and Grime Go is available in our DIY Superstore.
See the Video Guide on how to use Grime Go to remove grease for DIY and decorating below.
Using Grime Go to Prepare Surfaces for Painting
See our special offer bundle on Homestrip products by Eco Solutions in our DIY Superstore.