4 Great Ideas for Decorating a Cast Iron Bath – Make a Real Feature of Your Bath
A cast iron bath, also called a 'roll-top-bath' is quite a feature in any bathroom anyway, but here are some great suggestions about what you can do to create an even more opulent feature and give your bathroom a really sumptuous feel by decorating your cast iron bath.
We have a great project that explains how to actually prepare and paint your bath in 6 easy steps. Once you have decided on your style, we recommend a look at this so that you get high quality finish that you need.
Cast Iron Bath Decoration Ideas:
So you know how to paint the bath, but now you need some inspirations. Here are a few suggestions that we have collected that have excited us or given us some ideas:
1.    Stencil Designs on your Bath: We love this stencilling and it works really well on a roll top bath. With a little imagination you can create your own designs and make a very dramatic effect. If you are a little short on imagination or are just looking for more inspirations we recommend a quick look at the stencil library (https://www.stencil-library.com/) where you will find a huge range of designs to suit every style.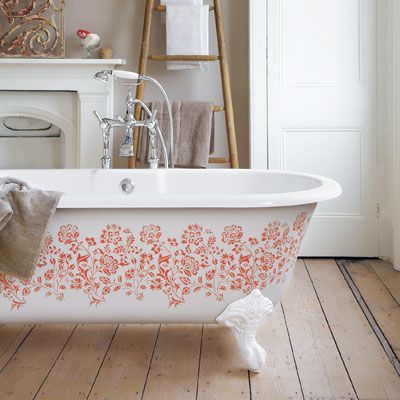 2.    Create a Metallic Finish: For the ultimate in opulence we feel that a metallic finish is the way to go. It creates a really rich feel and makes the bath look so solid and durable. You might even consider distressing it a little to give the aged impression.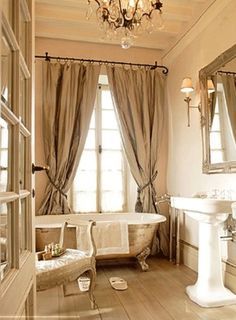 3.    Don't forget that you can paint the inside too: It's easy to forget that the inside of your bath can be decorated too. This 'changes the rules' and allows you to make an even more dramatic statement! We love this example from esty.com:
4.    Fancy Feet: The feet of a cast iron, roll top baths are always a lovely feature, so it is worth considering how you will accentuate them. What you can do will depend on the type and style of the feet, but it is really worth thinking about as they can really finish off the bath: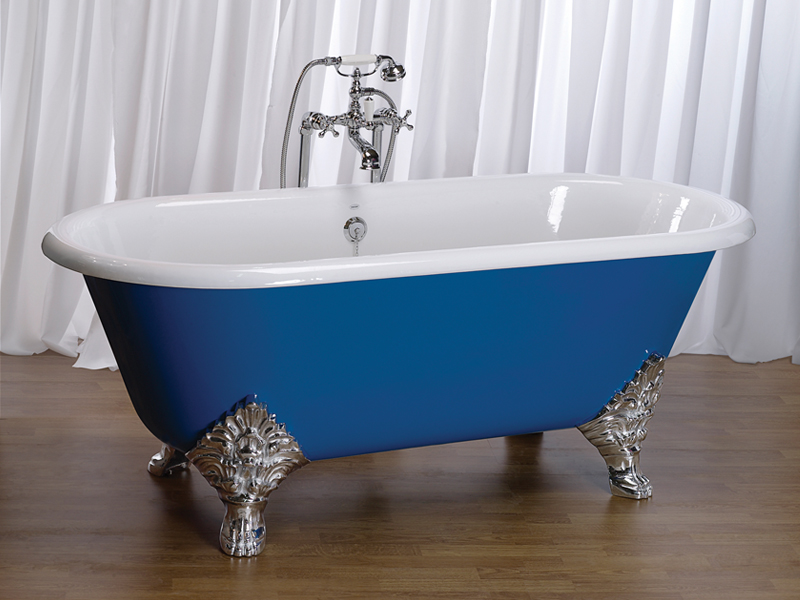 It's not all about baths! You can use the bath for other things too; here the bath has been cut in half to create a unique (ish – there will be the other ½!) chaise longue:
We hope that this has given you some inspiration. If you are looking for more ideas about paint effects that you could use on your old bath you could have a look at this project: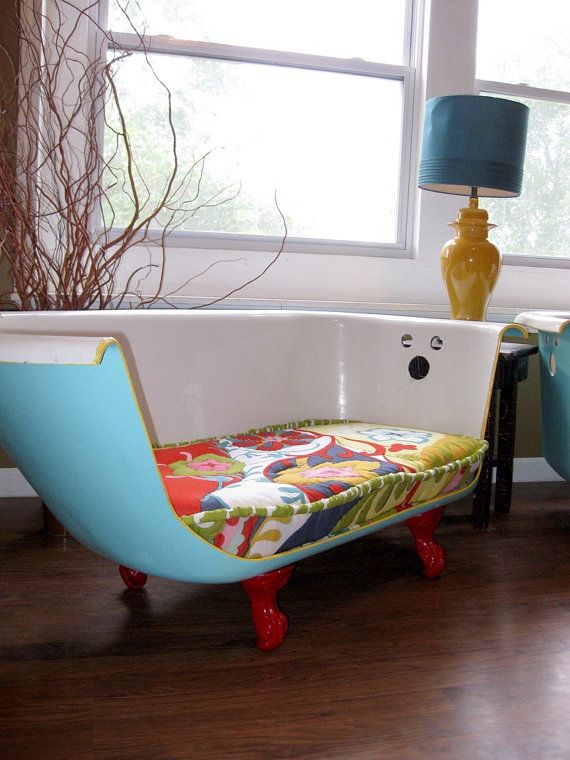 Happy painting and please let us know how you have got on or tell us about any ideas that you have had.