4 Home Improvement Ideas from London HBR Show
DIY Doctors Pick of the Home Improvement Ideas
From the London Homebuilding & Renovating Show
As you know we love the trade shows associated with the building trade, and the public shows for the Home Improvement market, because it gives us a chance to meet other industry experts, the public and our faithful users, and to share news and ideas with people.
Home Improvement Show Highlights
These are the four Home Improvement products our team spotted at the show that we felt were likely to be of interest to you.
There will be a more in-depth look at each of them throughout the week, but as a taster of things to come here's a brief snippet of what caught our eye.
1. ARCKIT
ARCKIT is a modular design system which enables architects to design and build a working model at the speed of light (well almost – at least as quickly as the speed of your brain can design it).
It is a physical modelling system which can be manipulated and reconfigured to give the desired result, which can then be transferred to a digital medium which allows easy sharing as well as cost calculating.
See our blog article about ARCKIT.
2. Protherm
Protherm is an external wall insulating system which looks like render, comes in almost any colour you could want, and gives excellent weather-resistance and durability.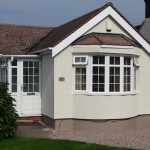 3. Chimella – The Chimney Umbrella
Yes, that's what we said a chimney umbrella or 'Chimella'. The British-designed device was conceived to saves you energy, and therefore money, by blocking off chimnies while they are not being used but allowing you to open them up when you light your fire.
See our blog article about Chimella
4. Trediswitch
Ok so light switches are not new exactly, but sometimes the styling of electrical switches is a bit, well, basic. These Trendiswitches are described as 'Sexy & Funky' by a previous customer, what do you think?
Have a look at Trendiswitch on our blog dedicated to them.
5. SheepWool Insulation
Hang on a minute, that's five not four! Even though I can't count I couldn't leave this one out – not even to save face!
Natural sheep wool insulating products from sheepwoolinsulation.ie include thermal and sound insulating materials, cylinder jackets and even slippers.
Full blog article on uses for wool here.
Free Tickets for the Next Show
The next show that DIY Doctor will be attending is the Northern Homebuilding & Renovating and Home Improvement Show, in Harrogate at the HIC. Open to the public from Friday 7th November to Sunday 9th November 2014.
Click on the link below to claim your two free tickets for a day at the show, and join us to show us your favourite Home Improvement ideas, or to pick up some of your own.