Garden Screens for Privacy and Shelter | Block Screen Walls
If you have been drooling over our blog on building brick barbecues which featured some great outdoor cooking ideas you might also want to give some thought to outdoor seating areas.
Whether you intend to have permanent seating or simply bring out garden furniture in the good weather then you may still want to build some screening for shelter from wind, sun or from the neighbours' eyes.
So if you are planning a permanent structure you will need to have the skills to lay strip foundations and bricks or blocks for your wall we can help you with technical help in our projects section.
We have just updated our DIY Project on building an Exterior Block Screen with lots of new images and helpful instructions.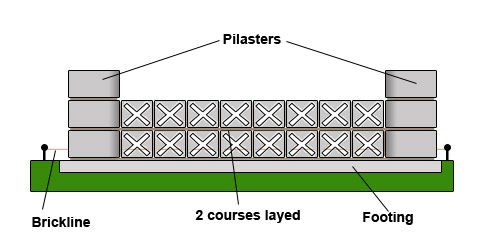 Moden Blocks
The style of blocks above are a traditional screen pattern for the garden, and you will have seen them in many gardens of houses built int he 60's.
There are now many different designs you can use in the garden, such as these blocks we found on moderndesign.org which give much cleaner lines to the wall, and could be painted to personalise the effect to suit your own garden.
Moorish Style
This design also found on moderndesign.org gives a North African feel to a garden screen wall. It would look great with some hot pink and orange planting.
Oriental Style
This oriental inspired seating area is a place a calm for a city garden and the principles of building the low wall are the same as the screen above. The instructions for laying a strip foundation for the footings for the wall and screen can be found in our Strip Foundations Project.
Urban Style
This contemporary screen on top of a low wall gives visual shelter and urban style to a garden, planters allow climbing plants to climb the trellis and provide more privacy and an opportunity to plant some fragrant climbers to perfume a private area to enjoy morning coffee or a glass of wine in the evening.
Funky Modern Designs
If you are planning to fix posts into the ground to secure screening materials o r trellis we can also give you advice on that too.
We like the modern effect these modular panels provide and there are lots of different styles available from artdeco.com. You can see how to fix the fence posts in our projects on mixing concrete and concreting fence posts.