Hands on Design with ARCKIT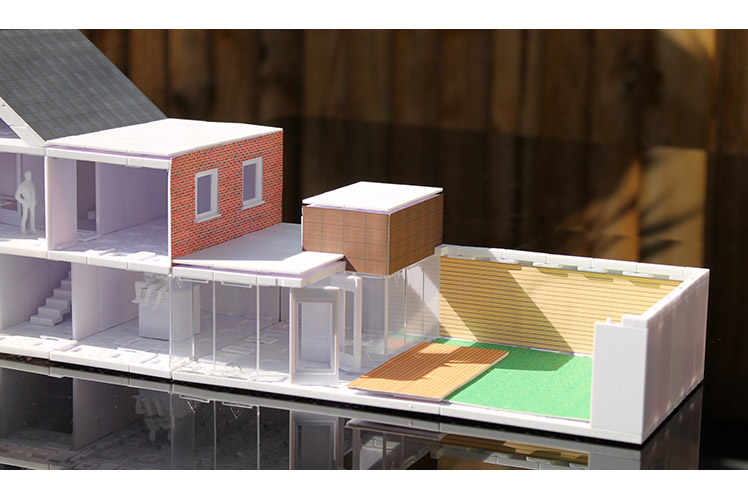 Imagine It – Build it
The ARCKIT strapline is Imagine It – Build It, which is a beautifully simple way of describing this hands-on architects design tool.
ARCKIT produces a modular system which is designed to allow architects to design, redesign, remodel and tweak three-dimensional building models, without having to be constrained by the time, and cost, involved in more traditional 'cut and glue' model-building techniques.
We spotted the founder Damien Murtagh at the Homebuilding & Renovating and Home Improvement Show at Olympia this weekend and having seen the product we wanted to bring it to you as one of our DIY Doctor Discoveries.
Customers can clearly see a physical model of the proposed build, which allows them to fully visualise how the structure will look, rather than relying on an computer-generated image.
In addition to the structure of the building, it is also possible to recreate and change the materials proposed for the building, using the free ARCKITEXTURE library of surface textures and material patterns. This allows you to print off such as wooden flooring, tiles and stone walls. This realistic detailed finishing further enhances the visualisation of the finished build.
Once it is built it is easy to alter and reconfigure the design to the client's specifications.
Self Build and Hobbyist Uses
The product is not restricted to architects; home-builders, hobyists and students could equally find uses for this 'thinking with your fingers' style of design.
Not everyone likes to design on a computer and not everyone can draw, but anyone can model a building using this ARCKIT system. If you can use Lego you can use Arckit. Don't be misled though it is a much more sophisticated system than Lego, and there is an integrated 3D Computer Modelling package too.
ARCKIT Digital allows you to use SketchUp to recreate the designs on the computer so they can be ready stored and shared, as well as allowing you to calculate the components and quantities you need to complete the build.
If you are planning a new build you could have great fun designing the home of your dreams, and play around with different finishes with minimum outlay.
Benefits of ARCKIT
These are the points DIY Doctor likes about ARCKIT:
– Freeform model system
– Fully scaled components 1:48 scale
– No glue required
– Infinitely reusable
– Full free ARCKITEXTURE library of surface textures and material patterns for detailed realistic finishing
– Cost effective design allows for non-commercial use
September Offer Extended
If ARKIT is just what you were waiting for, their September offer has been extended throughout October, so to get 10% off and free shipping on all sets during October 2014.
See the kits on the Arckit website.
If you decide to give it a go, or you are already using ARCKIT please share your results with us by Tweeting us (@DIYDoctor) using the hashtag #DIYDoctorDiscoveries.
See what other innovations took DIY Doctor's fancy at the London Homebuilding & Renovating and Home Improvement Show at Olympia this year.
No money changed hands in the making of this blog…