DIY Guide to Survive a Hurricane
Batten Down the Hatches – Gonzalo's coming!
Our Friendly Home Improver Reg Diyer has been hearing about Hurricane Gonzalo. If you haven't heard of Reg before you might not be on our mailing list – sign up on our site to get information, offers and deals.
Pleased to say the UK is not likely to get the full force of the storm. However Reg knows that high winds and driving rain can cause problems for homeowners, so he is looking at what tools might be useful.
Roof Maintenance
There is loads of great free information about about roof maintenance and repairs on the DIY Doctor website. Reg makes good use of this to decide he needs a few key tools to be ready to make repairs.
Make sure you have prepared for the coming high winds that the hurricane may bring our way. The first thing to do is check whether your roof looks like it is in good order.
There are several vulnerable areas on a roof that you should check before making repairs, or when getting a roofer in to make repairs for you. Check out the list in our project about roof leaks here.
Use a camera with a good zoom lens or a pair of binoculars to see the condition of the roof from the ground.
Check all tiles are sitting flat on the roof as intended. Take a look at this video, which shows the vulnerable parts of a roof, and make sure you have all the tools required to put things right.
Grab a heavy-duty tarpaulin with reinforced eyelets so you can strap it down securely to cover vulnerable areas on roofs, summer houses or sheds.
Make sure you have the right trowels for the job. Like this five-piece set which includes four different trowels and a brick jointer.
If you don't have much storage space for normal ladders, then buying a telescopic ladder is the answer for you – this one extends up to 3.8 meters.
Safety and Security – Lighting up Dark Nights
Reg doesn't like blundering about in the dark at the best of times – he certainly doesn't want to be tripping over storm debris after a hurricane!
Lighting your way outside with the dark nights getting longer is made a whole lot easier with our great range of external lights. Reg is a wise old (night) owl and knows that choosing wisely you will get great security features too.
Fences Blowing Down
Reg knows his fence is a bit might be blown down in high winds – is yours strong enough? Take a look at DIY Doctors video on concreting fence posts and add some strength to yours!
Trees and Branches Falling Down Trees can cause problems in high winds – Reg has been reading up on how it is a good idea to cut back branches before storms strike.
Are yours cut back to prevent breaking off and damage? Why not try a powered lopper like the one below?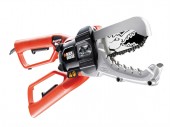 We also have other pruning gear like this bow saw or for less drastic pruning how about a pair of anvil loppers.
Don't go out in a Hurricane
It goes without saying, doesn't it, that you should not go out in high winds unless absolutely necessary. You certainly shouldn't be working at height, up a ladder or pruning branches once the storm has hit.
Stay inside and watch the telly, or get on with painting the spare room, which you have been putting off over the summer.