Instant Estimate for Decorating Work | Interior Design All Under 1 Roof
It's a clever name for a clever idea – get an instant estimate online.
If you are looking for a decorator in London then this new service might be of interest to you.
1ROOF not only matches you with vetted professionals, it also provides an instant estimate for the work you want doing. No more hanging around waiting for tradesmen to come back to you, you find out straight away what it will cost you, then all you need to do is to pick which tradesman you want to do the job for you.
How to Get an Instant Estimate
The website has a clever bit of software behind it that automatically works out the price of your job according to the information that you put in when you ask for a quote.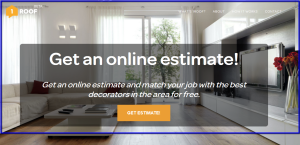 From the home page of their website you just click on the 'Get Estimate' button. This then pops up with a new window where you can add in your details and explain a bit further about the job you want done.
You can add more rooms, if you want work done in more than one room, this allows you to full customise all the work that needs doing throughout your home, whether it is to freshen up the paint in the sitting room, or redecorate from top to bottom.
Fill in the size of the room and choose what finish you require – paint, wallpaper tiles etc. Then add details of the work you want done.
There is also an option to add a photograph so you can upload an image of the room as it is, or an idea of what you want it to look like when it is finished.
There is an online chat feature too, so if you get stuck you can ask for help.
When you have finished just click on the 'Get Estimate' button at the bottom of the page and you will receive an immediate estimate, based on the information you have given.
You will then receive information from tradesmen who want to do the work, and you make your pick.
Employing a Tradesman
This service looks like a great idea to us, but we have not used it ourselves. They guys are 1Roof claim to vet their tradesmen, but as always we suggest that you should do your own research.
If you need help we have loads of tips and tricks on avoiding cowboy builders and some great tools for only employing a good tradesman, including DIY Doctor's Free Desired Outcome Building Contract and a payment protection scheme which helps to ensure work is finished before paying the tradesman.
If you are a tradesman and you are interested in getting involved in the 1ROOF system you can get in touch with them by clicking on the 'Are You a Decorator' button under the 'Contact Us' tab on the 1ROOF.org website.