Picking a Safe Heating Engineer
Avoid Cowboy Builders – Choose a Good Heating Engineer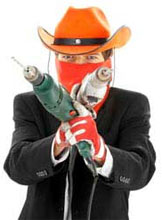 If you're having central heating fitted or replacing a boiler etc. you want to be sure you have the right professional, and knowledgeable, person don't you?
This blog arms you with the right questions to get a feel for how professional, ethical and knowledgeable they are.
Don't worry if they know their stuff they wont mind a bit – good workmen hate to be dragged down by the rogue traders as much as you hate to employ them!
If you have any gas work done at home the engineer must be registered on the Gas Safe Register at the very least. So check they are and ask how long they have been on it.
10 Questions for Your Heating Engineer
Can you provide your GasSafe Register number and ID?

How long have you been on the Gas Safe Register?
How long have you been trading?
Are you insured, and can I see proof?
Do you belong to a Trade Body and do they offer a mediation scheme should something go wrong?
Would you be happy to sign a Desired Outcome Building Contract (available free from DIY Doctor) to control the work?
Please supply me with references (not relatives or friends) – where their job was similar to ours?
Would you be prepared to use a secure Third Party Payment Plan?
How long will the work take, and what if it takes longer?
When could you start?
5 Questions About the Work
Which boiler is the best value for my household, and why?
Is it cheaper for me to replace my old boiler in the same place or can I move it.
What capability will that boiler have, and is that powerful enough for my household?
Do I need to replace any radiators/add any pipework/replace my timer or  thermostat/alter my water tank?
Who gets rid of the rubbish?
See more about avoiding Rogue Traders in our Project section, and you can start your search for a good tradesman by going to our Find a Tradesman section to find a good engineer in your area.
This blog post is extracted from a more in-depth Project on our main website:
15 Questions to Avoid Rogue Heating Engineers – Avoid Cowboy Builders