Get Your Free Tickets for the Harrogate Show this Weekend
DIY Doctor is presenting at the the Tricks of the Trade Stage at the Harrogate HIC this weekend
The Show is open for 3 days from Friday 7 November to Sunday 9 November. As usual we will be looking forward to meeting you there, we will have a series of How To demonstrations on the Tricks of the Trade Stage as well as a selection of tools from our toolstore and highlighting some of our DIY Doctor discoveries.
There are lots of reasons to visit the show, whether you are in the building trade, a self builder a DIYer or you are planning a project shortly. Many of you will have seen us on the tricks of the trade stage in other locations around the UK including Birmingham NEC and Sandown Racecourse.
Gain advice and help on all manner of Homebuilding and Renovating. See the video below for a speedy look through what the shows have to offer.
http://youtu.be/UOozLWdMiq8
Over 250 Exhibitors
Come and see the range of more than 250 local and national specialist companies all in one place, and all waiting to help you make a decision on the best products and services for you. If you are considering a Home Improvement project at home you are sure to find lots of inspiration at the show.
Ask the Experts
Experts from the Homebuilding and Renovating team such as Michael Holmes, David Snell and Sally Tagg are available to give you personalised advice on your project. We recommend you book your 15 minute session as soon as you arrive, as these appointments fill up quickly. Bring along your plans, photos and mood boards to help the experts understand your vision and give you the most accurate advice.
Seminar Theatre
Drop in to the seminar theatre to watch expert speakers on a variety of subjects, the sessions will run throughout the show, and you can check the timetables to plan your day. The seminars are given by experts in their fields. Many are people who are also exhibiting at the show, so you will have a chance to chat to them in person when they are not on the stage.
Ask the Architects
Throughout the show there will be free sessions with a chartered architect from RIBA to answer queries on your own building project. This is a great opportunity to pick their brains and get some inspiration for your project. Architects can really make a difference to the design of your build because they have unparalleled experience of the building materials and processes which can be employed to make your project really work for you.
Masterclass Theatre
Run by experts in their field these 20 minute sessions will cover a wide variety of topics from self build, insulation and rainwater harvesting, to planing consent and Home Intelligence systems. Check the free program available on the door for timings, and turn up early to get your seat, as there is no need to book.
The Planning Clinic
The planning experts will be on hand to give you the benefit of their insights into the planning process. They teach you the common pitfalls to avoid and guide you throughout the process. Many people make assumptions about the planning process and presume either that they can do something without planning consent or that they will not be able to get planning permission for a build in their area.
Take advantage of this opportunity to ask the experts for their advice on getting planning for your build before you start wasting time on money by getting off on the wrong track.
Renewable Heat Incentive Zone
Come and find out about how the domestic Renewable Heat Incentive makes installing renewable energy heating systems financially viable for your self build or renovation project.
Tricks of the Trade Theatre
DIY Doctor's Mike Edwards will be delivering his free How To classes on the Tricks of the Trade Stage. The sessions are free and run throughout the day. Come to the stage to grab a seat, you are bound to learn something from these informative and informal sessions. There is a question and answer opportunity at the end of each session.
ATi Miele LIVE KITCHEN
Pop along to the Miele stand to see cooking demonstrations from Chef Nigel Smith. He will show you that with the right equipment and a little imagination, there's nothing to hold you back in the kitchen!
Potton Design Lounge
Come and get some advice and inspiration to get an excellent finish on your home improvement project. Speak to the self-build experts who will be available to help you design, create and deliver your own beautifully tailored new home.
SHOWGUIDE
Use the online virtual show guide to help plan your visit to the show.
A Pair of Free Tickets courtesy of DIY Doctor
Click on the banner below to get a pair of Free Tickets to the Northern Homebuilding and Renovation Show, you can simply print off your tickets at home, so there is no waiting. What else were you going to be up to this weekend? Come along to the show – any day that suits you!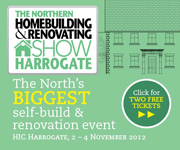 We always look forward to meeting our website users a the show – see you there!