Is Your DIY Work in Progress? Make a To Do List!
How to make an Effective 'To-do' list
A study into British Home Improvements reveals that it is possible that there are over eighteen-million of us who are part-way through our DIY task To Do list.
Do you have a never-ending DIY 'To-Do' list, are you steaming through a renovation project, or are you still trying to decide on paint colours for the spare room?
According to the research carried out by Black & Decker, Britons sometimes find the amount of outstanding jobs so overwhelming that is takes up all our spare time, and one in five have taken time off work to finish off DIY jobs. See Black & Decker products in our DIY Superstore.
Commenting in an article in the Western Daily Press last month, TV designer Ben Hillman, who worked on the campaign with Black & Decker:
The results show just how difficult it can be to complete DIY tasks when we lead such busy lives.

With the added pressure of work, ongoing renovations can seem like a real chore.

Jobs can suddenly snowball from something relatively small to something much bigger, and sometimes it can be hard to judge the size of the task.
Managing Jobs on Your To Do List
While the study showed that the average home has at least seven major jobs in need of attention, many of the jobs were quite small. It seems to be just the large number of small tasks, and the decisions needed to complete them, that makes them seem too daunting to start.
If you have a partner or children work out which jobs others can do to help you. This will make the jobs more enjoyable and less of a chore. For example children can help pull out weeds in the garden while you prune roses, or wipe marks off a wall while you tackle carpet stains.
Choose to mix up the jobs you like doing with the ones you don't look forward to doing, so you don't just put off the jobs you hate, for ever!
Organise a reward system for yourself – set a target to complete in the day and go out for a meal in the evening. Set a small list to complete in the morning then spend the afternoon watching sport. If money is tight buy a chip supper or watch a film on TV.
Treat household DIY as an opportunity to teach children how to be self sufficient. Show them how to change a lightbulb, use tools, fill holes, use a paintbrush etc.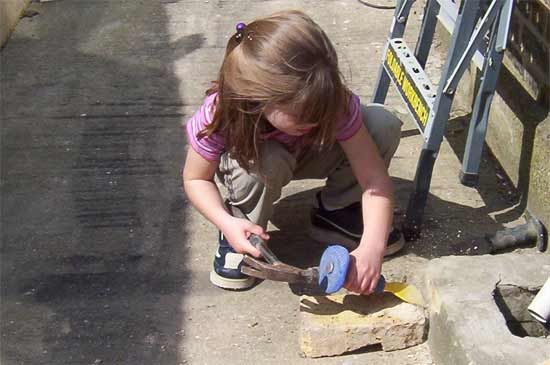 Try not to put off doing jobs, often the sooner they are tackled the better. Stains can be more easily removed, holes don't get bigger and peeling paint doesn't lead to timber rot if you get on and fix it swiftly.
Get yourself properly equipped to do the jobs you are doing. Use the right tool check on our DIY Superstore and see loads of video on tools and products to help you make the right choices.
DIY Doctors Tips for Tackling Home Improvements
Make a To Do list of all the jobs you

need

to do, and all the ones you

want

to do.
Separate them into jobs you can do yourself and jobs you will need help with, or will need to employ a tradesman to help you complete.
When you need to employ a tradesman make sure you have a full list of the jobs you need. It is much cheaper to employ someone to come and do all the related jobs in one g, rather than calling them back for half a day here and there.
Get a quote from a handyman for all the little jobs on your list – you might find you a better off pulling in some overtime at work to pay for someone else to do the jobs you can't make time for.
Of the jobs you decide you can do yourself, split them into jobs that will take less than a day and jobs that will take more than a day.
Make a note of how long you think each job will take and start adding them into your diary. Don't underestimate the time each job will take you. It is better to overestimate and take less time than you thought.
Include in your diary time to find a reliable workman for any jobs you cannot do yourself and let DIY Doctor help you with tools to help you employ a tradesman.
Pay older children to wash the car, pull up weeds, sand down woodwork, or peel wallpaper.
Ask a friend round to help with decisions you are struggling to make – where to hang that picture, which light fitting to buy, what colour paint to use. Even if you find that you don't agree with everything they say it will help to galvanise your thoughts.
Tick off items as you go along – give yourself a sense of achievement.
Top 40 Outstanding Household Tasks
According to the survey these are the top 40 most common jobs that are on our 'to-do' lists. Do you recognise these? Use our method above to cross them off your list.
1. Marks on walls
2. Squeaking floorboards – see how to cure this problem
3. Stained carpets – find out how to clean carpets
4. Blown light bulbs to replace
5. Pictures to hang – How to hang a picture
6. Peeling and flaking paint – Exterior decorating guide
7. Mouldy bathroom – Treating black mould on the bathroom ceiling
8. Peeling wallpaper – How to Wallpaper
9. Leaking or dripping taps – repairing a tap
10. Worn out or discoloured grouting – repairing grout
11. Holes in walls or ceilings – Fixing holes in walls and doors
12. Limescale in the kettle
13. Cupboard doors hanging off hinges – Adjusting cupboard doors
14. Shed needs painting – using a spray gun video below

15. Cracked or missing tiles – replacing a tile
16. Faulty toilet flush – Fix a toilet flush
17. Broken toilet seat – replace a toilet seat
18. Stained and marked furniture
19. Squeaky door hinges
20. Door bell broken – new door bells
21. Damaged/leaking shed roof – Building a shed
22. Furniture chewed by pets
23. Missing floorboards – replacing floorboards
24. Draws off their runners
25. Stains on kitchen worktops
26. Broken locks – lots of lock projects
27. Wobbly table or chairs
28. Broken door handles – get the Basic DIY Book from DIY Doctor
29. mis-aligned curtain poles – How to fix curtain poles
30. Blocked drains – Unblocking toilet, sink and drains
31. Extractor fan not working – wire an extractor fan
32. Blocked sink or plug holes – see 30
33. Broken fridge light
34. TV aerial not working – How to wire a TV
35. Loose or exposed wires – Electrical Safety
36. Wobbly shelves – making shelves
37. Broken light pulls and switches – Light switch project
38. Broken window panes – removing a window
39. Loose chair leg
40. Broken cat flap – Fitting a cat flap
Don't Hesitate- Get Stuck in
Start today don't put it off to tomorrow – you can make a to do list while you are eating lunch, on the bus, watching telly.
Make sure you stick to the list. If you need to make changes then rebook your time. Check off items as you go and you will soon see your own to do list shrinking away!