DIY Tips for Keeping Christmas Tree Lights Working
Christmas Lights are coming down across the UK
As twelfth night draws near you should make sure you store your Christmas lights properly to make sure they are in good working order when you come to trim your Christmas Tree next year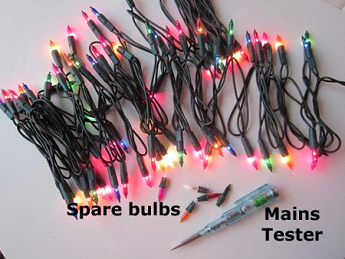 The Best Way to Store Christmas Lights
The best way to make sure fairy lights work for next Christmas is to look after them properly when they are in storage.

1. Turn on the string of lights to test your bulbs after you get them off the tree and before you put them away again.
2. Then take out as many of those working  bulbs as you have in your pack of spares, and swap the spares for the ones you know are working, and test them again. Now you know you have 5 spare bulbs that work!
3. Don't lose those spare bulbs. Seal them in an envelope with the words 'spare bulbs'  on it (you might have to write that yourself, unless you can find one in a drawer ready labelled with random words) and tape it to the side of the box that you store your baubles in.
4. Wrap the lights carefully around a cardboard packing tube, or a piece of stiff cardboard, to ward off the fairy light elves (They don't like strong cardboard don't elves!)
5. Buy a Faithful mains tester screwdriver (multi function) to test the connections when you unpack them next year, in case they don't work.