Floating Shelves – What's not to Love?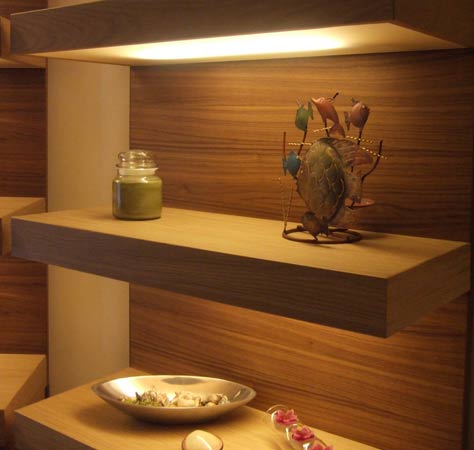 In today's consumerist world there's always something new to get and in most cases all we do is end up replacing things that we already have with a later or newer version.
If you're partial to a bit of hoarding and would rather keep the replaced goods than to sell them or throw them away, where do you actually put them?
Similar to the "odds n sods drawer" that is found in most homes (we admit to having several in the office) there can also be found the "odds n sods cupboard". This is normally packed full of board games, old VHS cassettes and audio cassettes, computer console games, DVD's, maybe the odd few bottles of spirits, vases and any number of other forgotten or rarely used items.
As it is now a new year we thought we would offer some suggestions as to how these items could be liberated from the cupboard area and then how they can be re-homed in a more prominent and user friendly place.
If indeed the reason that all your old stuff is now stashed in a cupboard is that you no longer want it, then take this as a good excuse to have a tidy up and get rid of it. You could even sell it as, after all, a few quid in the pocket is always needed this time of year!
Swiftly getting back to the point of this blog and the idea of easy storage solutions, we wanted to let the world know about the floating shelf.
What is a Floating Shelf?
In essence, a floating shelf is exactly what it sounds like it should be – it's a shelf that floats! There's no magic involved only a cleverly hidden bracket.
With a traditional shelf, a piece of flat timber is supported at either end by a bracket that is fixed to the wall. This is totally fine and works like a charm. It allows you to store and display a whole plethora of items from books to DVD's and audio equipment to flowers and plants.
There can be a draw back with this method and this comes in the form of the brackets themselves. They can be obtrusive and get in the way and also, depending on the look and style of your home, unsightly and also quite old-hat.
The floating shelf however wins on all counts. Because the bracket is hidden, the only visible part is the shelf itself and the range of styles and colours they are available in today will quite frankly satisfy and compliment pretty much all styles and tastes.
Another plus for the floating shelf is that they are also quite reasonably priced when bought as a kit. Obviously as with most things, you can get very high end floating shelf units made of mahogany and oak etc…. but if you are after a standard, laminated unit (or units) you certainly won't be breaking the bank.
If you want to have a go at making your own shelf, no problems! There are quite a few decent guides online that provide full details on how to do so. This particular project is on our own "to do list" and we should hopefully be getting to this soon, we will certainly let you know when we do.
To Summarize, the general advantages of a floating shelf are as follows:
Easy to install
Can be fixed to almost any wall surface
Available in a wide range of colours and styles
No unsightly brackets
How do you Install a Floating Shelf?
Keeping in theme with the simplicity of the idea and its design, fixing a floating shelf to a wall is straight forward. If you can hang a picture and get it straight then you certainly won't struggle with this job.
The installation process is as follows:
Decide where you would like your shelf to go
Checkout the installation area itself using a stud detector to check for hidden pipes or cables in the wall
Mark the top left hole of the bracket on the wall and drill it out
Insert a wall plug and screw the bracket to the wall, but not all the way yet!
Swing the bracket up and mark the top right hole, using a spirit level to get it level
Insert another wall plug and screw the bracket up
Mark the remaining holes for the bracket on the wall and drill them out
Insert the remaining wall plugs and screw the bracket up firmly to the wall
Slide the shelf section on to the bracket and insert the retaining screw (normally underneath)
Job done!
The above runs you through the basic process of installing a floating shelf but if you would like a full detailed breakdown check out our project on installing a floating shelf here.
Where can I get a Floating Shelf?
If the above has inspired you to install some of these amazing shelving units and clear out those cupboards, most of the large DIY stores now stock them and also most homeware stores such as Dunelm Mill and the Range stock them as do some of the Supermarkets also. So get yourself down there, get some floating shelves and perfect those installation skills!