With hopefully a decent, sun filled summer winging its way to us and the inevitable school summer holidays not too far around the corner now is a good time to start thinking about entertainment.
Providing the weather is good, the garden is a great place to get the kids into – it gets them out of the house and away from the TV, gets fresh air into their lungs and also lets them burn off some of that pent up energy.
Now that they are in the garden, the next question is what do they do? Well, we have a few ideas for you:
Paddling Pools and Swimming Pools
When the sun's shinning and the temperatures up there's nothing better than a dip in the pool, whether it's just dipping your toes or a full-on submergence there are a range of pools to suit all needs and budgets.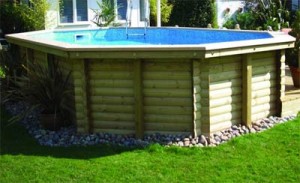 Padding Pools
Most people will be familiar with the traditional padding pool and may have vague memories of splashing around in one as a baby or toddler. Their small size and ability to be inflated and deflated when not needed make them ideal for younger children to while away those sunny days.
During the spring and summer they are readily available in most supermarkets and home stores usually for a very reasonable price.
Above-Ground Pools
This type of pool is the next step on from a paddling pool and thus we also get an increase in size, features and unfortunately cost also. Despite this a reasonable sized above ground pool can be purchased for a few hundred pounds but, if treated with some care and maintained correctly, will last a good long while.
Due to their size and the volume of water they hold, most above ground pools will feature a metal frame that effectively supports the pool.
As touched on above, these types of pools come in a range of sizes and shapes, with the cost rising usually in respect to the size.
It is also important to mention that build quality can vary between manufacturers and due to this we would definitely recommend going with a pool from a reputable manufacturer that offers a decent level of quality and warranty.
Sinkable Pools
This is more along the lines of the traditional pool – a concrete constructed hole-in-the-ground type pool, built to the specifications of the owner.
These types of pools can cost many thousands of pounds to construct and also a lot to maintain, but if this is the way you would like to go, no problems, just make sure that you do your research fully and also ensure that your builder has the required experience and knowledge to complete the construction to a high standard.
If you don't have a few spare grand but would still like a sunken pool then it is possible to purchase types of the previously mentioned above ground pools that can be partially or fully sunken into the ground.
It is, however, very important that you do not try to sink any pool that is not designed to be sunken into the ground as if it all goes wrong then any warranties will be void.
Safety and Maintenance
One of the most important (if not the most important) aspects of owning a pool, whether it's a four metre wide above ground pool or a paddling pool is safety, especially when kids are involved.
You should always ensure that a responsible adult is available to monitor children while they play to prevent any potentially dangerous behavior before it gets out of hand.
One other aspect is the maintenance of the pool. This is also very important because if left or incorrectly treated, germs and bacteria can easily build up to dangerous levels and become a serious health risk.
Another factor is the inevitable leaf and grass build up that will occur from simple air-borne objects and also climbing in and out of the pool.
In most cases this will be taken care of by simply cleaning the large objects out by hand or by using a swimming pool sieve. The remaining smaller particles will be taken care of by the pools pump and filter system that gradually pumps the water from the pool through a filter to remove the remaining objects. More can be found on this in our project here.
Trampolines and Bouncy Things
One other item that pretty much guarantees many years of fun (and exercise) is a trampoline. Again, they can come in many different sizes and shapes and the costs will be reflected in this.
If you are considering buying a trampoline there are a few things that you should consider first:
Realistically, how much space do you have to fit a trampoline into?
What is your budget?
What shape will best fit the space you have available?
Will a smaller one be out-grown in the not too distant future?
These are important questions to ask as by answering them you will ultimately arrive at the right size and spec trampoline for you and your family that will ensure years of entertainment for both kids and adults alike.
Trampoline Costs
As with the pools option above and pretty much every other thing, costs can vary greatly from twenty or thirty pounds for a very small trampoline for toddlers and smaller children to up to and over a thousand pounds for one with all the bells and whistles.
Again, it's nearly always to get one from a reputable manufacturer that supplies a decent warranty period. Although it may cost a bit more, if anything goes wrong or there are any defects then repair or replacement should be covered.
Keeping Your Trampoline Safe
Again, safety is paramount! Trampolines are fun but they can also be dangerous if you do not employ the correct safety gear and practice's, here follows some suggestions:
Position your trampoline away from any fences, sheds, walls or trees as colliding with one of these objects mid-bounce could result in injury
Cover the springs! Most trampolines will come with a spring cover and it's very important that this is used. Naturally, the springs are quite tough and need to be to provide an adequate amount of bounce. If someone lands on them and they retract then skin and other bodily parts can become trapped causing lots of pain and substantial injuries
You should always use the safety net provided as this will ensure that no one bounces off on to the hard ground. A decent bounce can get you up to 6 feet in the air and coupled with the height of the trampoline itself that can be nearly ten feet – more than enough to cause very serious injuries
You should also block access to the underside of the trampoline to prevent anyone from climbing under. If someone gets "bounced on" then this can cause injury to both parties involved
You should also make sure all the upright supports for the safety net are padded
Other Garden Fun
Aside from swimming pools and trampolines there are also quite a number of smaller and cheaper activities to keep those of all ages entertained, some of these are as follows:
Giant Jenga: Exactly the same family game that we all know and love only a lot bigger. Most are made from hard wood timber so they will be long-lasting and most will also come with a handy storage bag or box
Giant Chess, Draughts and Connect 4: Again, exactly the same fun-filled games but on a bigger scale. Most are constructed from hardwearing plastic so in the event that rain stops play you can leave your game where it is and continue as soon as the sun comes out
Sandpits: Imagine if could bring the beach to your own home! Well with your own sandpit you can. Coupled with a padding pool you could create your very own seaside!
Climbing Frames, Slides and Playhouses: With this particular are, the possibilities are pretty much endless. The choice of swings, slides, activity centres, climbing frames, all-in-one units, small playhouses, 2-story playhouses and even play mansions is in all honesty quite staggering! In terms of costs, basic items can start at around twenty or thirty pounds whereas larger, more bespoke items such as timber activity centres and large playhouses can run into the thousands
If you would like to find out a bit more about the ideas mentioned in this piece and a little more about what's involved then check out our project page here.