Hedge Trimmer Guide – When should I Trim my Hedge?
Before You Trim a Hedge
As a rule you should trim hedges in the summer, but you must beware of bird's nests in your garden. It is an offence to disturb wild birds while they are nesting, which includes the period in the spring when they are building their nests. Birds form an essential part of the eco-structure of a garden and in any case, most gardeners like to see birds in their garden so I am sure you will be careful when brandishing the hedge trimmer.
Most birds nest between the beginning of March and the end of July, but do just check before you start to trim your hedge.
When To Trim Hedges
Established hedges should be trimmed in the summer, however while they are getting established, new deciduous hedges should be pruned in the winter, just after planting, and for the first two years after planting. (Deciduous hedge plants are the ones that lose their leaves.)
The best time for pruning evergreen hedges is also in the summer, but in their formative years they should be pruned in the spring, so just after planting, and then for the next two years. The Royal Horticultural Society (RHS) have a great guide for trimming popular hedge plants on their website.
The RHS advises that you do not trim conifer hedges after August because it can lead to bare patches (so you need to be quick with your hedge trimmer this year).
Informal Hedges
Informal hedges are normally clipped by eye – there is no need for a formal guide, just trim the plants to suit the style of your garden.
You can use shears or a hedge trimmer to cut informal hedges, but you might find you get a better result on large-leaf plants by using secateurs or loppers. This means you have more control over where the blade cuts and reduces cutting through leaves which will leave a brown edge.
If you have a flowering hedge check the correct time of year for trimming or pruning otherwise the following year may be a flower-free zone. Don't be too worried if you are a beginner though, you are unlikely to damage the hedge and it should flower the following year.
Formal Hedges
Formal hedges require regular cutting to ensure they maintain a neat tidy shape. It is not so easy to cut a formal hedge by eye so you should set up a guide to help you.
Formal hedges are often made from smaller-leaved plants and so are usually suitable for a hedge trimmer or shears. They often need cutting more regularly, taking less away on each cut, than informal hedges.
To achieve a straight cut, secure two large straight canes or dowels at either end of the hedge. Make sure they are firmly in the ground and check they are upright using a spirit level. This means you can use these as a guide for the upright lines of your hedge. See our guide to spirit levels in our tool store.
Tie string onto the canes, at the height you want to cut your hedge. Make sure it is taut and check with a level to make sure it is straight.
Where you want a shaped top to your hedge – such as a wedge or an arch, you should use a template to help you keep an even shape along the length of the hedge. You can easily cut your own template in plywood or similar sheet material using a jigsaw – see the guide to using a jigsaw in our Projects Section.
When using your cutting guides, take care that the blades of the shears or hedge trimmer are parallel to the line you are cutting along.
Cut from bottom to top, to allow the cut foliage to fall away, and if using a hedge trimmer then use a broad, sweeping , upward action.
Reduce the Amount you Cut Your Hedges
If you pick plants that naturally reach the height and spread you are looking for then you drastically reduce the amount of work you have to do pruning and trimming your hedge each year. Prime examples of these plants are those used in municipal planting, such as Rosa Rugosa which tend to grow up to a height and spread of about 1.5 -2.5 meters when mature. You can deadhead the flowers, but most produce hips that are almost as spectacular as the flowers, so you can just leave them for winter display (and food for the birds).
If you just want a border to delineate an area rather than provide screening and shelter, then you could do worse than planting a row of lavender. Lavender is low maintenance and very fragrant, as well as being an attraction for beneficial insects, and looks great bordering a path. You can cut the plants back after flowering (taking care not to cut too far into the woody stems, or you can just allow them to get bigger each year and eventually replace any plants that are getting too leggy using cuttings taken the previous year.
If your soil is not free-draining enough for lavender then you could mound up some earth and compost to which you have added some grit, and sit your lavender hedge on the top of that. This has the added benefit of adding height to your boundary.
Cut Your Hedges More
Some gardeners are remarkably creative with the shapes and styles of their hedges. While intricate styles need more frequent hedge trimming they give such fantastic results you might find it's worth the effort.
Here are 6 of our favourites, found on the web:
Dragon Hedge
Photo © Damien Mcfadden
This amazing Dragon Hedge has taken John Brooker of Norfolk 13 years to trim and train. The hedge is 150ft long (45.7m) and runs outside his home at Frizzleton Farm.
Basket Weave Hedge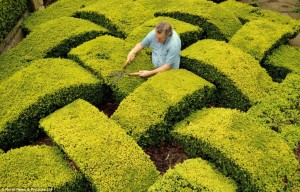 Photo ©North News & Pictures Ltd
This ambitious knot garden box hedge is located in the grounds of Washington Old Hall, Tyne and Wear, and requires regular trimming to keep it sharp.
Elephant Hedge
Photo ©AFP/Getty Images
Crafted by architect Tim Bushe, whose name is a perfect aptronym, This Elephant hedge is one of a menagerie that he has trimmed for charity in North London.
Traditional Topiary
Photo "Beckley Park topiary garden" by Vivian Garrido
Licensed under CC BY-SA 3.0 via Commons
Beckley Park in Oxfordshire has one of Britain's Oldest Topiary Gardens, the whimsical shapes appear to march across the lawns. You could create a miniature version or pick one shape for inspiration.
Hedge Heads will Roll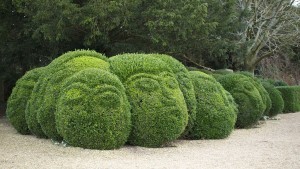 Photo: Gurning… (8456271082) by Ian Kirk
Licensed under CC BY 2.0 via Commons
These jolly heads require patience but, as they don't have to be accurate portraits, you have a certain amount of artistic license when you are trimming.
Graffiti Hedges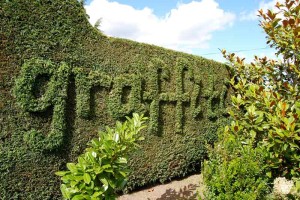 Photo: KnivesOut.co.uk
Knives Out have a great take on street art fused with gardening. One of the comments on their website states: 'That's not a hedge it's a work of art'.
See what you think, check out their styles online at KnivesOut.co.uk, and then share your images with us via twitter @diydoctor or contact us to ask us for an invite to our Pinterest sharing board.
If all that doesn't persuade you to dust of your hedge trimmer I don't know what will!
Haven't got a hedge trimmer yet? Then check out this hedge trimmer review.