3 Common Central Heating Pump Problems and How to Solve Them
Central heating pump problems can occur at any time, but they often happen when it is most inconvenient, in the middle of a cold winter. It's important to be able to recognise the cause to ensure the issue is fixed quickly.
Old Central Heating Pumps
The most common problem is that the pump is too old and worn and needs to be replaced. In general, a central heating pump can last between 15 and 30 years. But this time can be reduced significantly if it is working in a hard-water region where limescale can be deposited all around its connections. This can be avoided by having the heating system serviced annually and the pump replaced when necessary.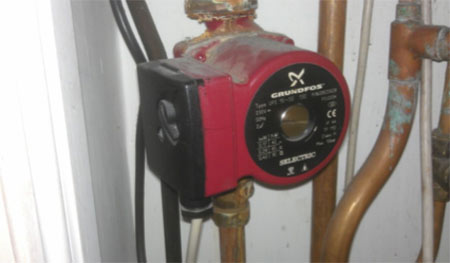 It is worth have a look over your central heating pump before the cold weather starts. It is it old and it might actually be cheaper to replace it than risk it breaking and then having to pay for costly call out charges on top of the pump. To find out how to replace a pump yourself have a look at our project on replacing a pump.
Dirt, Air or Grime Getting into Your Central Heating Pump
The second most common problem is dirt, air or grime trapped within the pump that can jam it. Much of this is caused by the pipes being installed too close together and banging after they expand when hot water flows through then displacing sediment or creating air bubbles which can then flow through the propeller and other components causing damage. When the pump does not function, the radiators will be hot and cold in patches and also not work correctly. To solve this you need a central heating technician to come in and flush the system of you can try and do this yourself – see tips on how to drain down your central heating system here. Air locks can be dealt with by unscrewing the head screw of the pump system and releasing the air.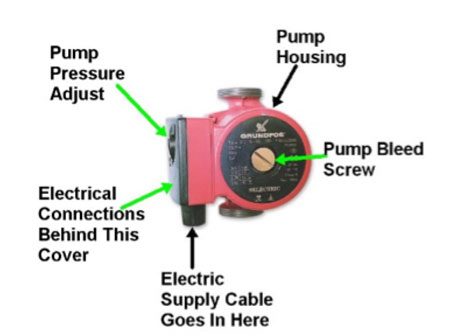 Faulty Electrical Wiring and Plumbing Problems with Pumps
Faulty electrical wiring and plumbing can cause many central heating pump failures. The problems may start with the fuse that leads to the pump blowing. This can be replaced easily. But an incorrectly wired pump could cause sparks and become a fire risk. This issue needs to be dealt with by a trained professional – find a local electrician one here.
Faulty plumbing can result in noise from banging pipework. This noise can travel all around the property through the radiators. Call a professional plumber to remedy the problem.
More About Central Heating Problems and Diagnosing Faults
The pump is one part of the whole central heating system. Sometimes you will not know what the problem is and therefore we recommend that you follow a logical sequesnce until you find the fault. Use the flow chart in this project to help you find the fault and determine the solution.
The cental heating pump is a critical part of the system, so if you look after it, it will look after you!