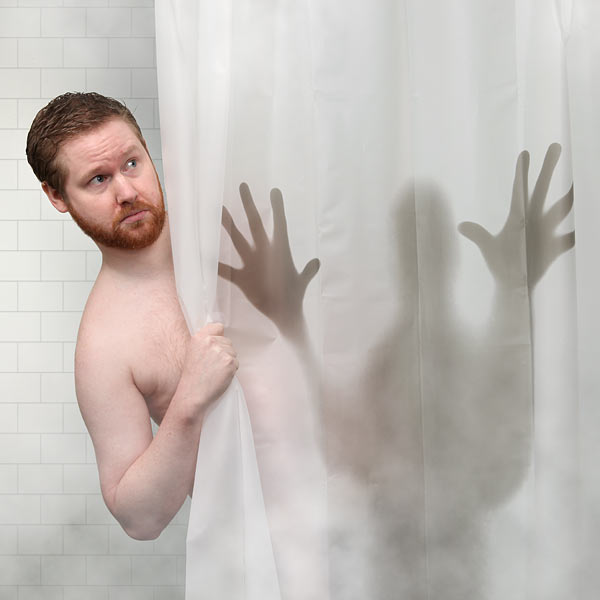 Shower Curtain
We spotted this scary shower curtain at TheGreenHead.com – it looks like there is a psycho-style attack going on in your shower whether you are in the shower or out of it. Obviously there are much prettier, stylish and cute shower curtains, but we like the dark humour displayed in this one!
It sparked off a search for other interesting shower gadgets. These are some of the other ones we really liked: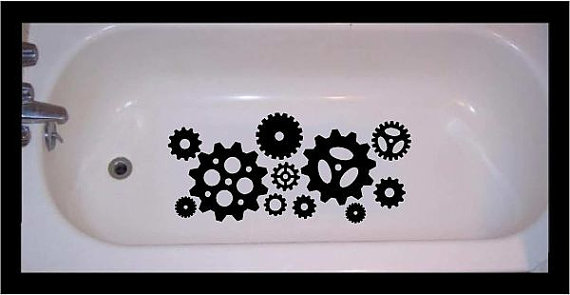 Non-Slip Shower
Etsy is a website that allows people who make things to sell them globally. This means you get some really interesting products at good-value prices and you get to support creative people making craft items. We love these 'steampunk' inspired cogs from Vinyltastic which are made of non-slip vinyl which you can stick to shower trays and baths to make them non-slip. They also make mermaids, turtles, dinosaurs and even pirate designs.
See-through Concrete
Not a joke – but a truly beautiful material which is strong and durable, not to mention very cool. The blocks are made using a combination of optical fibres and concrete. The glass fibres behave like aggregate in the concrete forming a new hybrid material which forms into patterns which are unique to each piece like natural stone. Made by Litracon by Hungarian architect Aron Lonsonczil, the pictured Litracon Classic® was listed among the most important inventions of year 2004 by TIME magazine, and we can well see why.
Project Your Paradise
This Spaces OLED shower brings a tropical paradise into your bathroom. This shower has a 180-degree, wrap-around screen that displays the image of yoru choice. Set the scene and step into a jungle, beach, or waterfall etc. One of our more expensive shower gadgets. A daily luxury!
Shower Timer App
Save money and time by showering for less time each day. If you tend to daydream in the shower you can use this app to keep you from wasting water and might even make sure you keep to time in the morning! Available for Android phones, find Shower Timer on the Google Play Store.
Of course there are also shower apps on iOS including water timer, which is also free and will measure the amount of water you are using on the garden, or to wash the car etc. as well as when you are in the shower.
Fake Shower – Sound Cover App
This is an app to save your blushes, and it's not actually a shower gadget because it imitates a shower rather than being something you use in the shower, but we thought we should slip it into this blog because it has a certain (childish) comedy value.
The app makes your iPhone or iPad sound like a shower to, ahem, drown out the toilet noises going on in the bathroom. Of course you could just turn the radio up, but that might arouse suspicions…

Take Your Phone into the Shower
If you cannot bear to be parted from your beloved phone long enough to get clean in the morning, then you can use this waterproof pouch and listen to a podcast, watch a film or Facetime your mother (well she's seen it all before!)
It looks pretty scary to me to have your phone surrounded by so much water but apparently it's been well tested. We found this Hoyo on Pocket Lint which features some great tech gadgets.
Total Control with Your Phone
Using your mobile phone you can set the shower running so it is the perfect temperature to step into while you are lying in bed telling yourself it is time to get up. Ultimate luxury? Check out the remote control water system from Crosswater.
Temperature Sensitive Colour Changing Tiles
If you are one of those people who can't decide what colour tiles to have in the shower then why not pick some that change colour depending on the temperature of the water? These would be great in a guest bathroom, imagine how surprised your visitors would be as the tiles morph when they turn on the water in the shower. We found these colour changing tiles featured on dornob.com and the only downside we can see is that when the tiles are room temperature they appear to be either blood red or spooky black – mind you if you pair them with the scary shower curtain at the top you have yourself a theme shower room!
Bathroom Cleaning Robot
We've saved the best til last. This is definitely one of our favourite shower gadgets. It's a bathroom cleaning robot that we spotted on apartmenttherapy.com which attaches to the tap, and has suckers underneath so it can clean vertical surfaces. You will probably still have clean the toilet yourself, but it can be getting on with the bath, basin, shower and tiles while you do that. The robot looks like something you might pick up on a journey around the universe with Doctor Who but if it's willing to do the cleaning, who cares how ugly it is?
If you want help and guidance on installing a shower or choosing the right shower for your system you can visit the projects section of the website which has loads of useful 'How To' guides and videos – just look in the shower section.
We are also producing a series of webinars including advice on choosing showers.