Alternative Christmas Tree Ideas
If you are bored with the usual Christmas trees made out of some sort of spruce or fir then check out these clever DIY alternative Christmas tree projects.
Stepladder Tree
Once you have hung up your bunting, and anything else that you might need a ladder for, you can use your stepladder as an alternative Christmas Tree. The triangular shape of a pair of steps make them ideal for re-purposing as a tree!
This ladder tree from Tattered Style is a great way to get the festive effect, while remaining honest about its DIY roots. You have probably already put up Christmas decorations but if not make sure you are being safe on a ladder. You also need to be careful when you take your decorations down in the New Year, whether they are indoor decorations or outdoor.
Hanging Tree
We like this space-saving alternative Christmas Tree. Spotted on NotMartha.org this 'tree mobile' is easy to personalise and takes up very little space.
When fixing items to the ceiling you should use a stud detector to ensure you are fixing the support into a joist and not just plasterboard which won't give you a secure enough fixing. Obviously this is less vital with a few baubles, but is very important where you have more weight and a permanent fixture, such as a light fitting.
Recycled Christmas Tree
This Tree made from eggboxes is easy and cheap to make, not only that but it won't even need painting if you buy the right sort of eggs in the first place.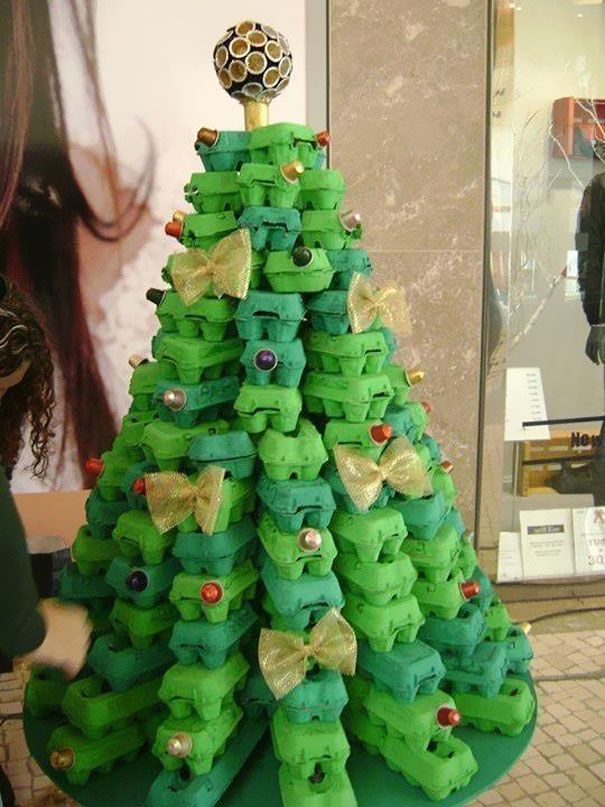 The 'baubles' in this egg box tree are made from coffee pod foil containers, but you could use real ones or make your own by cutting up old CD's, and even bits of old computer to get a quick cheap festive fix.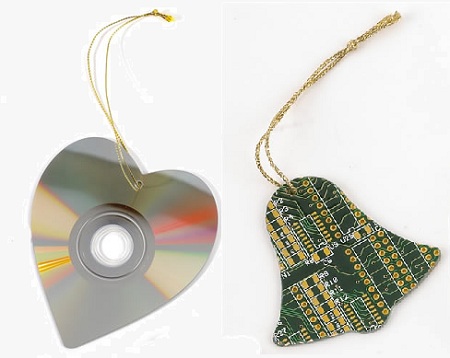 Use a pair of sharp snips when cutting tough material like metal. Make sure you are wearing safety gloves and glasses.
Dedication to the Tree
This alternative Christmas Tree will take some time and effort to create, and is best made together with a group of friends to help out. We are sure you will agree that the work involved pays off when it comes to the end result!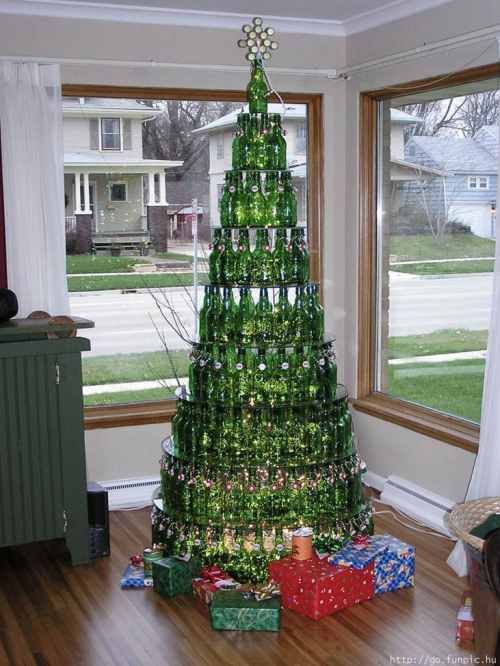 You could even build it out of full bottles and work your way down it as you entertain throughout the Christmas Season. As you dismantle the full one you could then build a second one from the empties.
To do this yourself you could cut circles out of MDF and then paint them green, rather than investing in glass shelves like this example found on Pinterest.
Ultimate Alternative Christmas Tree?
If you want to make your own Christmas tree out of recycled materials you can see our video here:
Have a Very Merry Christmas – see you in the New Year!