World's Worst Christmas Gifts
Worst Christmas Presents : Clothing Category
Obviously socks are a boring present but these Christmas gifts go way beyond boring in to jaw-dropping WTF. Like this number from ASOS:
Christmas Elf Onesie
It is not attractive is it, and it's certainly not sexy – why would you buy this? Either for yourself or anyone else over the age of three?
We were rather gobsmacked by this elf onesie from Asos – it even made it onto the front page!
Real Turkey of a Sweatshirt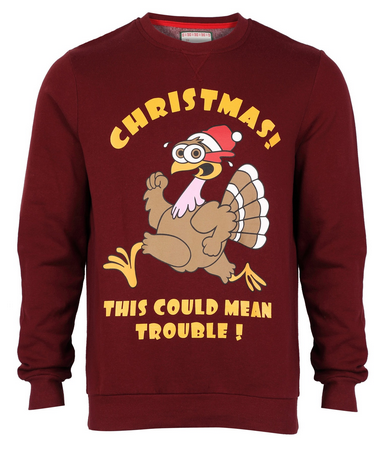 This Christmas Turkey sweatshirt from Tokyo Laundry is unlikely to make it out of the cupboard. Even the colour (oxblood) is terrible!
Handerpants – erm well pants for your hands I guess!
Ok, so moving on to more niche wearable items – we dug up an image for handerpants from Larry's List of Bad Christmas Gifts on fieldnotesfromfatherhood.com. We agree Larry – these are not good!
Just too weird
It's not just us is it, this baby carrying jacket is unnerving isn't it? One not to buy for new parents this Christmas!
And the winner is:
Santakini
For this clothing category anyway – keep reading for other horrible Christmas Gifts you wouldn't wish on your worst enemy.
This Santakini has to be the very worst wearable Christmas gift though – doesn't it just make you shudder?
Offensive Christmas Gift Category Winner
Irish Accent
We are not really sure whether it is even acceptable to give this Christmas gift web-room. Perhaps we are just perpetuating bad and even racist Christmas gifts. What do you think of this kit for an 'Instand Irish Accent'?
Christmas Presents that are Bad for You Winner
Smoking Mitterns – Yep Mittens for Smoking in!
These Smoking Mittens found on MarieClaire.com on a list of '41 Gifts we don't want' are just wrong on so many levels. Thanks Marie Claire.
Least Likely to Use Category Winner
Pee on the Tee
Not sure if the UroClub also on the Marie Claire list (mentioned above) is genius, or the worst thing we've ever seen. Either way how likely are you get this out and use it? Frankly it just looks suspicious!
Runners up
Willy Care Kit
This gentleman's willy care kit is listed on eBay variously from over a thousand pounds to £12.99. Mind you where it's a thousand pounds you get free delivery – I should hope so! Could I suggest you don't buy it at either price?
Half Pint Glass
Did you see what they did there? Frankly we have come to expect better gifts than this at iwoot.com let's be honest this half glass is pointless.
A Million Pound Note
Oh please, why would you? – no one will have change for this Million Pound Note . . .
Pet-Lovers Gift Category: Joint Winners
Scary Cat Speakers
The Telegraph featured this in their Worst Christmas Gifts list. We agree, although it could help you choose who your friends are – if they like this cat speaker it's time to part ways.
Quack – Dog Muzzle
These beak-shaped muzzles for dogs are called Quack, and honestly if you are buying Christmas presents for your pet you are already a bit quackers but please – they will get laughed out of the park!
Pointless Christmas present Category
Crap Toilet Roll
Actually the clue's in the name, so maybe just don't buy this Crap Toilet Roll?
Swarovski Screwdriver
You can buy this Swarovski Electric Screwdriver from Amazon – although there was only one for sale when we looked (wonder why?), but when would you use it, really?
Santa Drinks Dispenser
Surely Santa Claus is just taking the proverbial here? Oh sure this Santa drinks dispenser is funny for a while but when the mother-in-law comes round? You can see it in action on You Tube.
Name a Star
Not quite sure why you would want a star named after you if you haven't actually discovered it. I'm just saying this is not what I would want for Christmas, OK?
'Up Yours' Mug
Why not just say 'up yours'? Rather than have the mug do it, if that's the way you really feel. A cowardly Christmas present idea!
Soundwave Print
A soundwave print of your favourite song. Nope, I don't get it, please don't get it for me either!
Electric Paper Plane Launcher
You shouldn't need an electric plane launcher but if you did, you should definitely make your own version, like this one on Instructables.com
Overall Winner: The Useless Box
You could buy someone a useless box and then they could have a pointless Christmas playing with it. Although to be honest this one 'with surprises' below, is better, especially the 'MC Hammer' moment.