Europe DIY Recession and Health & Safety
There has been a lot of hooha about what will happen to the construction industry and whether there will be a DIY Recession if we stay in Europe or Brexit.
DIY Recession could last a year
David Cameron and George Osborne visited B&Q headquarters in Chandler's Ford, Hampshire, this week and made dire warnings about a 'DIY Recession' if we vote to leave the EU in the referendum in June.
Cameron warned the gathered employees that more than eight hundred thousand jobs could be lost if the UK exits the EU. He said: "As I stand here in B&Q it would be a DIY recession".
The Chancellor said in his speech: "Within two years the size of our economy – our GDP – would be at least 3% smaller as a result of leaving the EU – and it could be as much as 6% smaller. We'd have a year of negative growth – that's a recession."
You can read more about it and watch a video of the DIY Recession speech by the Prime Minister and the Chancellor on the ITV website.
Health & Safety in Europe
At DIY Doctor, we are not here to preach politics to you, we want to help you build stuff and DIY. So as a bit of light relief you might be interested to see what a more 'relaxed' approach to Health and Safety rules could look like if we were to exit Europe, and do away with all that pesky red tape and legislation.
One area that could benefit from a more creative approach to building could be, say, the building of roads…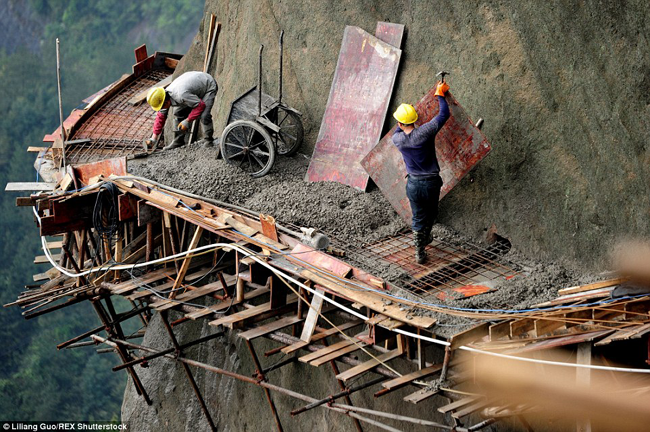 Thanks to the Daily Mail for sharing these amazing construction images last month – we were reminded about them by Trade Hub via twitter this week and we noticed a few of you thought the images worth sharing so we thought we would do our bit to pass these brilliant pictures on. Don't forget to share any of your favourites with us there too.
Surely whatever happens in the Europe vote we wouldn't think this was OK would we?
If you are going to be building this weekend why not check out our Projects section which includes a section on paths and driveways, but not how to build half-way up a mountain in flip-flops – thank goodness!