The DIY Doctor Kneezy Kneeler, Zarges Ladder and Flex Sander Competition Winner
We have recently closed an awesome competition and selected the lucky winner. Arnold from Merseyside was the winner and he's now had a chance to use the tools that we have sent him. The prize was a seriously practical one which included a Flex Sander, a Ladder from Zarges and a new tool that we have just discovered, a Kneezy Ladder Knee Pad.
It has taken us a little time to catch up with Arnold, who is a retired post master, as he has been looking after a relative who has been poorly, and then went on a well earned holiday. Now that he is back he has even managed to dig out the ladder and get some of those sanding jobs off his 'to do' list!
Arnold came across DIY Doctor when he was searching for information about fitting a new kitchen. He had decided that it was time for a new kitchen, but to save money Arnold planned to fit it himself, or as much of it as he could. Having search around the web, he stumbled across DIY Doctor and got the information that he needed. With our help, and a lot of hard work Arnold fitted his kitchen, although he did get in some professional help to fit and connect up the gas cooker.
The ladder and kneezy knee pad would have come in handy fixing the wall units, but there are still plenty of jobs where they will come in handy. Having his own ladders will mean that he'll no longer have to get someone in to clear the gutters; this is a job that he can do himself and save a little cash.
The Flex sander has been pressed into use a couple of times already and makes short work on most sanding jobs. It is a tough but light tool which Arnold can use all day if necessary – although he's hoping he doesn't have to!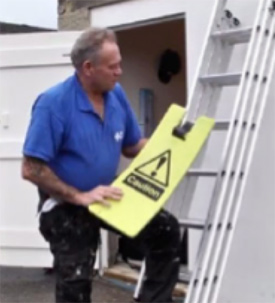 Arnold's Verdict on his Prizes
Arnold started his working life as an apprentice electrical engineer. In those days the ladders were wooden and seriously heavy, especially when they got wet. Then there were metal ladders, which again were heavy and cumbersome. This experience meant that Arnold had never considered buying his own ladders, but now he owns some he's delighted; they're very light and easy to carry or get in to the right place. He's going to be using them all the time, especially as with the Kneezy ladder knee pad he can in comfort!
The sander is a great piece of engineering which is a definite 'step up' from the old one he has in the shed. Everyone needs a sander but you only really know how much technology has moved on when you up grade.
You can check out the products that Arnold won here:
And finally, what did Arnold say about DIY Doctor?
Well, he stressed that the information that he found on DIY doctor was written "in our own language – plain English". That's exactly what we are trying to achieve!
Thank you to Arnold for sharing his story, and being part of the DIY Doctor community. We hope that with our sponsors we have given you a new lease of DIY life!