Art meets Craftmanship at Trowbridge Town Hall
Superb Woodworking Skills
Many people struggle with modern art because of the perceived lack of traditional skills on display. That is an argument for a different website, but we wanted to share with you our experience of an exhibition that combines thoughtful art with skillful execution.
DIY Doctor visited Trowbridge Arts based in the old Town Hall and discovered a fantastic exhibition by the artist Bill Goldsmith which demonstrated superb cabinet-making and carpentry skills in his paintings and collages, as well a fine draftsman's hand in his drawings.
Reusing Materials to Hand
When Bill was coming towards the end of his life his wife Ann encouraged him to sort and catalogue the huge quantities of drawings and etchings that he had stored in his plan chest, as she felt it would be a job too monumental for her to undertake. She explained that he was 'not happy' to be having to confront the amount of works on paper that needed to be rehoused into folders and files.
Ann explains that having emptied the chest he found another use for it – he broke it up and incorporated it into some of the works he made at the end of his life, which included 'Niche', featuring the shapes of his favourite hand saw and 'Untitled (Saws)' into which he has embedded his Tenon saws (shown below).
Both of these works of art show extraordinary woodworking skills (and recycling inspiration).
'Behind the Light' Art Exhibition
The exhibition at Trowbridge Arts is called 'Behind the Light' because Bill Goldsmith used light and shade to reflect the layered nature of human existence. He believed the dark times we experience are a necessary counterpoint to the lighter times of happiness and joy that are a temporary part of our lives, and the sweeter for being so transient.
The exhibition takes over most of the available space at Trowbridge Town Hall: Starting in the main foyer, continuing through to the ground floor gallery and on to the first floor in the main gallery.
It features Bill Goldsmith's work from his earliest student works for the Royal College of Art through to his early paintings of landscapes, buildings and people, which developed into a heavy impasto style of still lifes in the middle of his career. His later work features collage and reliefs which feature carving and assembled objects.
In later life Bill's work concentrated on the head and skull as symbols of humanity, mortality and fragility. Both skulls and the head occur again and again in prints, drawings, collages and sketches.
Some of the most poignant work on display are the sketches Bill made during his last time in hospital. These are accompanied by small notes in the margins and prove that Bills artistic drive never left him. The handwriting is tiny and hardly legible; Ann explains this is because 'he did that when he didn't want you to know what he was writing'. They were intended to be notes to himself to remind him of the thought-processes that he wanted to incorporate into his finished works.
Visit Trowbridge Town Hall
The work on show at Trowbridge Town Hall in Wiltshire includes some working drawings, collage ideas, printing plates and a carved plaster head of a child intended to be cast in bronze.
These sketches and works in progress give a unique insight into the artist's mind and ways of working which are not always available to visitors to art exhibitions.
The later works are our favourite because they demonstrate such a tremendous awareness of tools and materials, but you can visit to see for yourself – the exhibition is free, Trowbridge Town Hall is in the very centre of town on Market Street, facing down Fore Street.
Trowbridge Arts is open 10am-4pm Monday to Friday 10am-2pm Saturdays. Closed on Sundays.
Artist's Talk
Behind the Light Exhibition is open until Saturday 23 July 2016, when at 2pm Ann Goldsmith will give a talk about her husband's work. The talk is a free event but you need to book a ticket via the Trowbridge Arts website.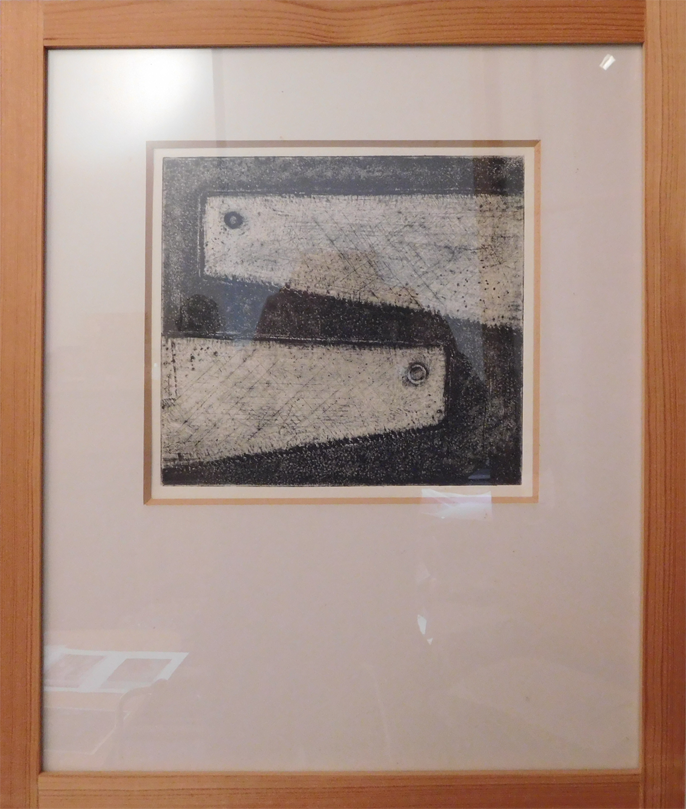 Using Saws and Other Tools
Do you want to find out more about handsaws and how to use them? DIY Doctor has loads of helpful tips and advice on tools and DIY in the projects section of our main website.