The Right Lighting Choice for Your Home
The Right Lighting for You
When you get around to looking for the right lighting for your decorating project, the choice can be overwhelming. Do you want ambient lighting or more focused spotlights? What kind of bulb are you looking for (and does it matter)? Are you looking for a light to hang from the ceiling or to stand beside your sofa? There are a lot of places to trip up, which is why I've put together this handy little piece to help you out.
Getting the right look for your home is about more than the colour of the walls or the style of the furniture. Lighting is a practical necessity, but it also holds the key to the aesthetics of a room. If the lighting in your house isn't right, you'll draw attention away from everything else that you've worked so hard on.
Bulbs
First things first: what kind of bulbs do you want? Before you get down to size and wattage, which will ultimately be dictated by other factors, you need to decide on the kind of bulb itself. Your choice will normally be between halogen bulbs, LEDs, and CFLs.
Halogens are the most common bulbs, the ones that you'll find all over the place. They're tried and true, and you can't really go too far wrong with them. That said, they're now starting to fall behind their energy-saving competitors in terms of reliability and cost.
CFL – Compact Fluorescent Bulb
One of these competitors is the compact fluorescent bulb (CFL). These are the classic energy saving light bulbs that last for years but take a bit of time to warm up to full brightness. They're a popular option in many homes, though there are concerns with the mercury that they release once they've been thrown away, so they're beginning to fall out of favour.
LED Bulbs
Replacing them in the hearts of homeowners are LED bulbs. These bulbs use less energy than either of the two previously mentioned options, and although they cost more up front, they will save you far more money in the long run. LED technology has also come a long way from the cold light that they produced at the end of the 20th century. You now have a wide range of choice from cool white light to warmer light more appropriate for a home.
For a full breakdown of the pros and cons of these bulbs, you can check out this handy guide. For now though, the best long term choice is undoubtedly the LED bulb.
Style
Once you've settled on a bulb, the next decision to make is the style of the light itself, and it is here that the choice seems overwhelming, but you really have a lot of creative freedom.
Ceiling lights are common in every home, but they can really set the tone for the room. A modern, unique-looking option like the one pictured on the left below will complement a very different sort of room to the more traditional looking choice on the right, though this second light is also quirky enough to make a big difference in the right room.
A very different type of light, wall lights, can be used to great effect to either complement or replace ceiling lights. As with ceiling lights, these can be very modern looking or they can be very traditional, and you should carefully consider the style of the rest of the room when you are choosing these.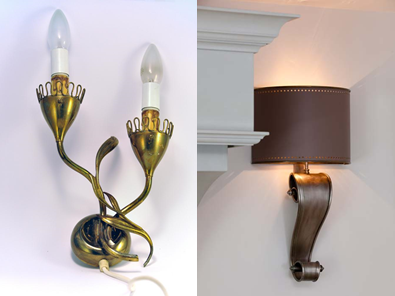 Consider the two wall lights above. Both of them are older in style, appealing, perhaps, to a more traditional style of room. However, that doesn't mean that they are interchangeable. The exposed bulbs of the light on the left will normally be bolder and brighter, more likely to attract attention.
Contrastingly, the large shade on the right hand light ensures that its effect is more understated – part of the supporting cast rather than the lead actress. Depending on what else is in the room, and where you want to focus the visitor's attention, you should have a fairly good idea of which one of these two lights is the better option.
And finally, in many rooms you will have a floor standing lamp alongside any other ceiling or wall lamps. As you have probably guessed by now, you should not just buy the first standing lamp that you see and assume that it's going to do the right job. You should consider the type of lighting that you need and the style of the rest of the furniture in the room, and then buy something that matches your requirements.
These sort of lamps are moveable to give you the right lighting for the tasks you are doing – reading, working, or taking part in your favourite hobby.
Both of the lights pictured above are simple and modern, but as with all the previous examples, they would be used best in different rooms. The left hand light is more suited to clean, white, sparse environments, as seen by the background of the picture itself, whereas the light on the right seems warmer and more homely, so would work nicely alongside a chair or a sofa in a living room.
Over to You
All that I have been talking about is really just a starting point. Now it's over to you. Whatever decorating project you're working on, whatever look you're going for, I hope that this can help you find the perfect lights to brighten up your room. Be creative, be imaginative, and I'm sure that it will turn out great.
Images and comment provided by WeSellElectrical.com
Why not check out DIY Doctor project pages about lighting, to help you get the right lighting in your home, including why bulbs blow and how to fit dimmer switches.
Save