Loft Storage – Does Christmas Hide in Your Loft?
Loft Storage – Does you loft need a makeover?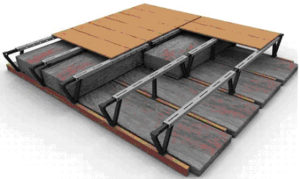 Loft storage, loft spaces, and Christmas are synonymous….Every year we put our tree, our Christmas lights and decorations into their respective boxes and "file" them neatly in the loft. When we return the following year, they have disappeared.
Instead of the Christmas goodies, all we can find is suitcases, boxes of charity clothing, broken computers and loads of other stuff that will come in handy one day……….
 Loft storage, suitcases, loft access and laziness!
Christmas is in the loft. It's January and all the old kids toys, clothes, laptops, computer games have been replaced with hundreds of presents from lovely people….I just can't bear to throw the old stuff away though. It must be good for charity, or perhaps my friends might like it for their kids? But what do I do with it in the meantime?  Of course; I'll put it in the loft and sort it out later.
Loft ladders and headaches
The stepladder for the loft is in the garage – that's a pain. The hatch gets stuck – that's a pain. The opening is tiny and there's so much stuff – that's a pain…………There is absolutely no fun involved in either putting stuff  in, or getting stuff out of the loft; so what do we do?
We open the hatch, climb the steps only as far as we need to and push our stuff onto the nearest available surface….There's a bit of resistance because I'm pushing against something else. Oh, it's OK that's moving…Great, it's in. Close the hatch, down the ladder. It's forgotten. That is until someone else needs to put something up there.
Whatever went in first (usually the Christmas decorations) gets pushed further and further back. Just like one of those Penny Falls machines at the amusement arcade!
The Answer to the Loft Storage Problem
StoreFloor, from Loftzone, will help you make the very most of every inch of floor space in your loft. The great design allows you to lift your loft floor enough to get much more insulation underneath and not crush it down when you load the floor with clutter. Important if you want your insulation to actually work!
Strong, but very light, sections are screwed together easily to build a loft floor which allows to to put everything in its proper place in the loft. Full installation instructions, together with a great video, can be found on the loft storage page of the DIY Doctor website and the Christmas tree will come to light much more easily every year!