Thinking About Installing an Outside Tap? This is What you Need to Know
There are several good reasons to fit an outside tap. We look at them further down the page, but you have probably already made up you mind that you need a garden tap – now you need to choose one to suit your own style.
Decorative Garden Taps
You can get decorative taps like this cheeky little robin tap. We found him at Black Country Metalworks, along with a cute hedgehog, and some more watery creatures like a turtle and a 'fish out of water'.
There are choices in finish depending on what look you prefer: verdigris, antique, polished brass and chrome. We also like the little fish motif on the wall plate.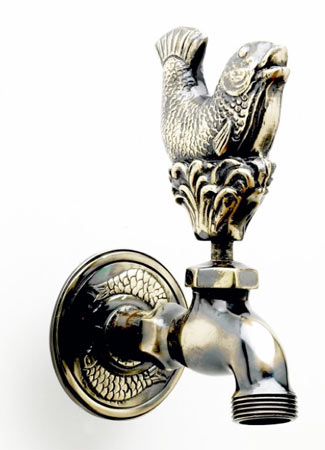 This imperious looking frog is from GardenProducts.co.uk and he also comes in polished brass finish. You can see their full range of garden taps here.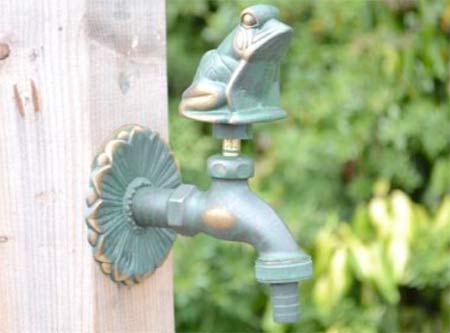 From the same company, how about a little snail that you would want in the garden? This fun novelty tap has a chirpy little mollusc and a flower decal.
Protect Your Outside Tap
Outside taps can freeze in cold weather so there are different ways you can prevent this happening. You can fit an insulated cover, like one of the ones pictured below.
The first is a dense polystyrene cone that fixes to the tap itself so there is no need to drill into the wall; you simply loop the fitting strap around the tap and adjust the toggle to fix the cover against the wall. To use the tap you need to loosen the toggle and pull the cover away from the tap.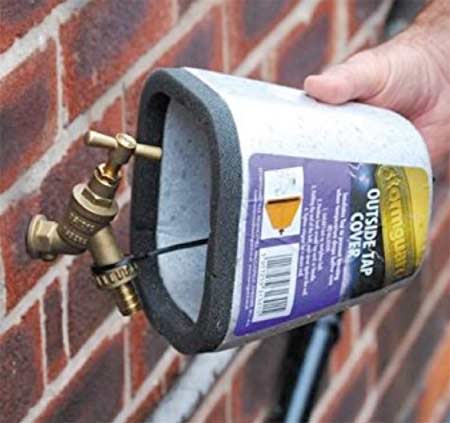 The second is like a sleeping bag for outside taps – the insulated cover is quick to fix in place using the hook and loop straps. The tap can still be used while the cover is in situ.
Or more simply you can make sure the tap can be easily isolated by fitting a valve on the inside pipework when you fit outside taps at home.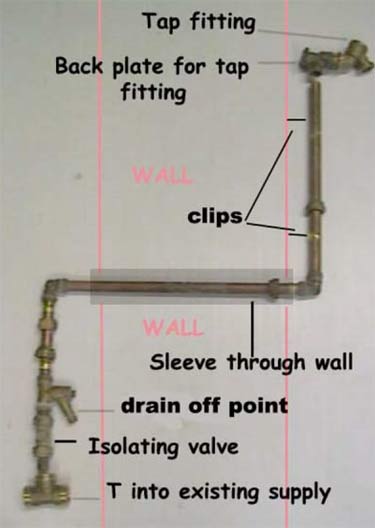 See more about how to fit an isolation valve in your outside tap in our Fitting an Outside Tap project on the main website.
Why Fit an Outside Tap?
To water the garden – it is much easier to water the garden if you have an outside tap, it saves traipsing through the house with your wellies on – saving you miles of walking and loads of grief and cleaning up.
If you are fitting an outside tap for watering plants you might want to consider adding a storage reel for a hose. We like this really stylish steel hanger from Manufactum.co.uk.
Cleaning Decks and Patios
Make cleaning moss and algae off paths, patios and decking really quick and easy by attaching a power washer to your outside tap. You can do the same job with a stiff brook and lots of elbow grease, but lets face it using a lance with a high power jet of water is a much more fun way of tacking the problem of slippery paths!
Providing Water for Animals
Whether you have chickens, cows or ponies it is much easier to provide the water they need by fitting an outside tap rather than trying to haul loads of buckets from the nearest indoor supply.
A handy out door tap will allow you to fill and transport buckets with ease, without the risk of spilling any in dooors also.
Cleaning the Car
It is much cheaper to wash your own car than to pay for car washes. Make the task easier by fitting an outside tap. You can then attach a hose and spray head or a power washer to make the job even quicker.
Garden Hose and Spray Head with fittings to attach to your garden tap – Available from our online store here
You will find a range of hoses and power washers in the DIY Doctor Toolstore here.