What is the Best way to Seal and Decorate Timber?
We recently released a video about a range of Liberon Professional Hard Wax Oils which seems to have hit a chord with many of you who are refurbishing or sealing timber. Our recommendations have sparked questions about the best products to use when sealing or decorating timber, so we thought we would share some of the most commonly asked queries.
What is the Best Sealing Product to Finish off my Bathroom Panelling?
You can use these Professional Liberon products on softwood and hardwood to protect timber from water and stains, heat, knocks and dirt. Make sure the surface you are coating is either bare wood or previously oiled wood. If it has been previously painted, varnished or waxed you will need to strip or sand the wood back to bare timber before you use the Liberon hard wax oil. Liberon Professional Hard Wax Oil is absolutely perfect for high humidity areas such as bathrooms.
I Want to Keep the Nature of the Wood and I Don't Want it to Have a Yellow or Orange Stained Appearance?
In that case we recommend Liberon's Profesional Hard Wax Oil Natural, which will protect and nourish the wood, keeping moist air and water splashes off the timber so it won't rot or discolour. The Micro-porous finish will allow the wood to mellow naturally over time
The hard part of the name means the finish is very durable the oil part describes the consistency of the product, which is simply applied with a brush to clean dry timber.
My Doors Have Been Oiled Before but They Need Recoating – What is the Best Product to use?
It's unlikely that you can remember what you used on your timber before, but the beauty of Liberon hard wax oils are that they can be applied over existing oils on timber. Sand lightly and then make sure the surface is clean and dry, before applying in the same way as you would to bare timber.
Apply with a roller, or with a brush in long sweeping strokes making sure to have a well loaded brush and to apply in a thin even coat. Repeat as necessary to get the effect you are looking for. Two coats is usually sufficient.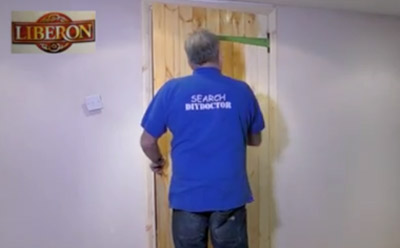 I Want to Recoat the Timber Floorboards in my Hallway Which is 4 Meters by 2.5 Metres, how Much Liberon Professional Hard Wax Oil will I Need?
Coverage is 30 square meters per litre so to give you the recommended two coats you will need work on an are of no more than 15 square m per coat
I can't use Stains or Varnishes That Have a Strong Smell as They Make me Feel Sick – can I use These Liberon Products?
I know what you mean; strong solvents in paint, varnish and other finishing products can make you feel light-headed, nauseous or even wheezy. We are noticing a move away from products with strong odours, both for professional use and for the DIY market.
We have to say that we find Liberon Professional Hard Wax Oil pleasant to use because it doesn't have a strong odour. Please be aware though that you need to clean brushes with white spirit. For a low-odour alternative that can be cleaned up using water try Liberon Hard Wax Oil which is available in clear satin or matt from our Toolstore, there is also a range of wood dyes to get the perfect finish for your timber.
I want to Repaint my old Pine Kitchen Units; Will These Hard Wax Oils be Suitable for This?
Yes these Liberon finishes are hardwearing and waterproof so they are perfect for kitchens and bathrooms. You could play around with a mixture of natural wood and painted effects to get a modern bespoke feel to your kitchen, like this one we found on Houzz.co.uk
I want a Whitewash Seaside Cottage Feel for my Bedroom Floorboards, will White Hard Wax Oil do the Job?
Yes, either the white or grey colours will give you a hardwearing paint effect suitable for floors, and you will still see the gain of the wood. Different timbers will give a different effect so test an area first to see if you need one or two coats, you can also sand them back in areas to give a distressed or aged look, simply finish off with a clear coat or two afterwards so that the sanded areas are well protected.
I Bought a new Pine Door for my Cottage and I Want a Stain to Give it a More Aged Appearance, Which Product Should I Choose?
Well of course that is personal preference, depending on whether you prefer a light or dark stain. In the video below you will see that the client went for a light oak effect that gave a mellow colour to the pale pine doors, but if you want them to look very old you could get brutal and knock the doors around a bit first and then apply the medium oak colour which will look like the wood has much more age.