How to fix a Floor or Ceiling in a Jiffy Using Joist Hangers
If you are a builder, Joist Hangers should be no stranger to you, neither will the words Jiffy Hanger. To the uninitiated however, they could be modern methods of torture or something found in a changing room !
Finding out about joist hangers can make life so easy if you are involved in any kind or refurbishment to your home which requires the replacement of any of the floor joists. In fact, the job can now be done in a jiffy!
You've guessed. Joist hangers and Jiffy hangers are one and the same thing. Invented in 1903 with the patent update in 1957, a joist hanger earned the nickname "Jiffy" as it took literally hours off.
Rotted Floor Joists?
the laborious task of removing rotted joists from the walls they were built into and replacing them, then making sure they were rot proof and immovable took a very long time…………… Enter the joist hanger.
Joist Hangers on Masonry
Joist hangers are designed to fit into, or onto masonry walls and their sturdy, galvanised steel construction allows heavy loads to be placed on them.
They come in all shapes and sizes and cater for setting joists onto RSJs (Steel Girders), adding stair trimmers to get a staircase through the floor, adding strengthening timbers to timber floors, adding joists to provide lower or higher ceilings and an unimaginable number of jobs in a traditional hand-cut roof.
The joist hanger, in our opinion, is one of the Home Improvement Industries greatest inventions of all time and it only took a jiffy!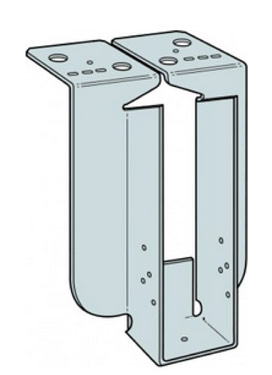 Mini Hangers
Joist hangers also come in lightweight sizes for jobs like shed roofs and attic refurbishment. In the main these are called Mini hangers and deal with timbers up to about 3 inches x 2 inches or, in new money, 75mm x 50mm.
Using a mini hanger is so much easier than trying to side-nail or screw a timber through another timber and, when complete, you can be sure it's straight and as strong as it can be.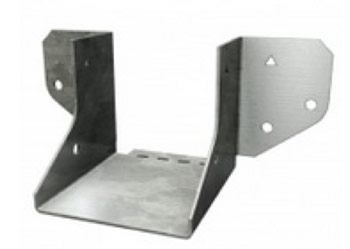 Opening up Your Lounge
For those with larger projects, for example those wishing to turn one room into two or those planning a loft conversion, any job in fact which requires a roof or floor strengthened by a steel girder or RSJ – There is the Saddle Joist Hanger.
This little beauty simply hangs over the RSJ and joists are dropped into it on both sides. This means, to those of you who have tried. Two small rooms can be turned into one without any extra support coming up from the floor.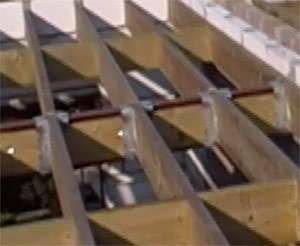 To find out more about these handy products, take a look at our project on using joist hangers and laying new floors. If you are involved in any kind or renovation work, sooner or later the humble joist hanger will make an appearance in your life!