Electrical Zones Explained – What are the Different Types of Domestic Electrical Zones and What are They for?
You will sometimes hear people talk knowingly about electrical zones, so what are they?
In a domestic setting there are essentially two types of 'electrical zones' that you need to be aware of:
Both types of zone are designed with your safety, and that of the electrician that will be working around them, in mind. In simple terms they are zones or areas of increased risk of injury from electricity.
Know where they are and you are going to be safer when you are doing your home improvement. Thankfully with a little common sense, you will not fall foul of them, however it is definitely worth being aware of them.
Electrical Zones in Bathrooms
The regulations have divided up a bathroom into zones of increasing risk. The closer that you get to the water – taps and shower heads – the more dangerous it becomes. As water conducts electricity it is very dangerous to mix the two, which is why only competent people (ie, qualified electricians) should work in bathrooms.
If you need a Sparky near you, you can find one here.
There are effectively 4 'zones', where Zone 0 is the most dangerous and the area outside the zones is the safest. In summary they are as follows:
Zone 0 – Inside the bathtub or shower tray
Zone 1 – the area directly above the bath or shower tray
Zone 2 – the area outside zone 1 where water is likely to splash
Outside zones – the area beyond the formal zones but inside the bathroom
We have a full explanation of these in our project about bathroom zones.
The regulations situate exactly what electrical appliance that you are allowed in each zone, and how the stipulations relax as you get further away from the source of water, rising through the zones.
Within the zones, you are not allowed any electrical appliances, bar a couple exceptions. Pull cord switches are allowed, as commonly seen in bathrooms, otherwise the switch needs to be outside the bathroom or at least 3 metres from the end of Zone 2.
Lights are allowed, if approved by the manufacture, as are shaver sockets so long as they are in zone 2 and positioned in a place unlikely to be splashed.
Our project on Bathroom Zones explains exactly what you are allowed and the exceptions in much greater detail. It is worth understanding these rules when you are planning your bathroom, however this is a very basis summary!
Electrical Zones for Cables
Electrical Zones for cables are exactly as they sound; these are safe zones where cables can run inside your walls. This is where there is a greater risk of finding a live electrical cable – which is not something you want to do accidentally!
The safe zones for cables occur in every room where there is any electrical appliance, be it a switch or socket. The cables should be run in specific zones where people will expect to find them, or they must be buried deep enough in the wall and protected with a suitable casing so that they cannot inadvertently be struck with a screw or nail.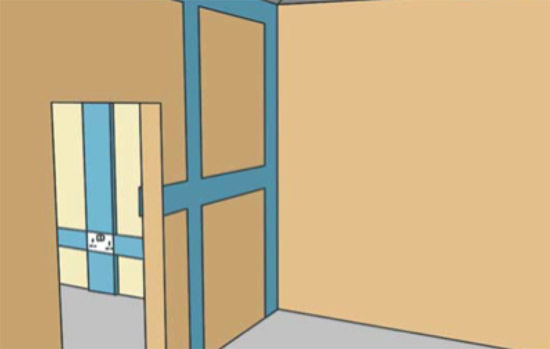 The zones are run horizontally around the top of a wall where it meets the ceiling, or horizontally from an appliance such as a socket or switch. They also run vertically from the sockets and switches, and vertically up the wall where two wall meet.
For full details about exactly where they run, have a look at our project about Safety Zones for Electrical Cables.
It is well worth a read before you start bashing in picture hooks into the wall, or fixing that flat screen telly bracket!
Remember, if you are not sure what you are doing you should get a professional to help you. And you will need one for any electrical work in a bathroom. You can find one here
Stay Safe!