Benefits of Installing a Hot Tub or Spa in your Garden
There are a number of benefits of installing a hot tub or spa in your garden, and they are well documented. They assist with debilitating ailments from arthritis to stress or even diabetes to insomnia.
While we are DIY Doctor, we are not real doctors so can only really tell you about how to install your hot hub or spa, which we do in this project. That said we were intrigued by the various health benefits that using a hot tub or spa can potentially bring, so we've been doing a little research. And we have been amazed, because there are a lot of benefits that people claim. Here's a few.
Health Benefits from Using a Hot Tub or Spa
While we imagine that it is hard to corroborate many of these benefits, we also suspect that it would be hard to prove they don't occur also, and there must be some truth in them. Do get in touch and let us know your opinion (see links below)!
Hot Tubs and Spas Help With Arthritis
Warm water soothes and the buoyancy of water takes the weight off inflamed joints
Warm water raises the body temperature causing blood vessels to enlarge improving circulation
Spas can gently massage and relax the muscles with water jets to relieve tight muscles
Alleviate the Causes of Stress
Immersing your body in warm water can relax you and is even said to reduce blood pressure.
Your circulation is improved by the warm water causing your blood vessels to expand
Hydro and aromatherapy can be used to enhance the benefits of a spa of hot tub.
Simply by relaxing you, you will become less stressed
Reduce the Symptoms of Diabetes
The improved blood flow helps the circulation system to work better which is a common issue with suffers of diabetes
Apparently soaking in a spa or hot tub can reduce the blood sugar levels
Help With Sleeping an Insomnia
Simply by being more relaxed is said to help combat insomnia
Warming up the body in a nice hot tub will start the natural process of getting ready for sleep allowing you to drop off more easily once out of the tub.
Reliving stress and anxiety will always help, as this is a significant contributory factor to insomnia.
Blood Pressure
The improvement to circulation help to reduce blood pressure by gently exercising the heart more
Being more relaxed and less stressed will have a positive effect on blood pressure.
Joint Pain and Injury Recovery
As you can imagine the relaxing benefits will have a positive effect on any painful areas or if you are recuperating from an injury
Removing the weight from your body by immersion in water is particularly good for joins but other areas of the body too
Improving circulation and blood flow help the body to function better and therefore recover faster and stronger
These are some of the major benefits for using a spa or hot tub, but there are many more, including it is simply a great way to spend a little 'down time'.
Fitting a Hot Tub or Spa in your garden is something that you can do yourself, or at least part of it, as we describe in our Installing a Hot Tub Project.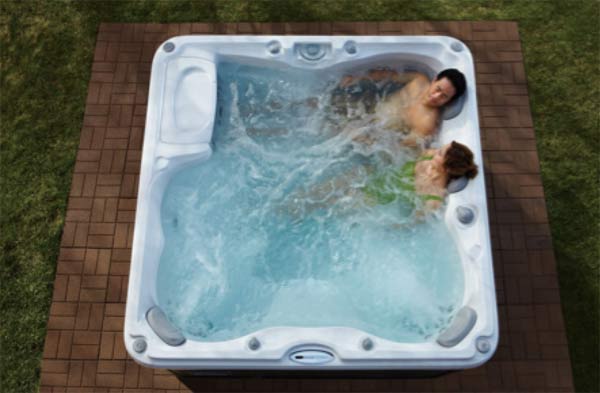 Where you will need assistance for certain is getting the electrics hooked up; this is covered under Part P of the building regulations, and requires a competent person to undertake.
Making the base and preparing for the delivery of your chosen hot tub is all an excellent DIY Project. We cover a little about how to select the right tub or spa for your needs in our hot tub project, so this is worth a read before you start.
Enjoy relaxing in your new tub!