How to Get Work Done During Covid-19 Lockdown
The world seems to have been turned upside-down in the last few weeks, so here is our guide to getting work done in these crazy times. There are essentially 2 or possibly 3 elements to answering the questions about "How to Get Home improvement Work Done During Lockdown":
Can you get a tradesperson?
Can you get the materials required for the work?
And, if required can you hire the plant or tools needed?
We'll look at each of these issues in turn – and it is not as straightforward as you might think!
Can You Get a Tradesperson to Work for you During Covid19 Lockdown?
It is not clear whether builders and tradesmen should be or are "allowed" to be working during the lockdown. In Scotland the situation is less ambiguous, as all construction work has been halted.
The English guidance is that "essential work" can continue so long as social distancing measures are taken. Michael Gove, Minister for the Cabinet Office, said that jobs "critical to the nation and to the life of the economy should continue to work" and that "intimate contact in someone's home" such as when carrying out renovations or repairs would be "inappropriate".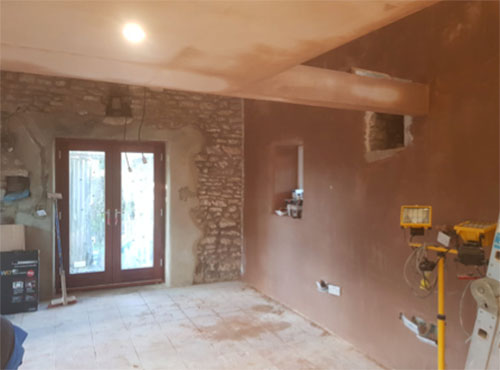 However what constitutes essential is where the debate lies. Hayley Lorimer, director of membership services at the Federation of Master Builders (FMB) suggests that all work should stop when the work has reach a safe place to do so and the site is secure and weatherproof. This interpretations suggest that only essential work in hospitals, prisons etc. or work that is causing an immediate risk to people is what should continue.
Government Guidelines in a Nutshell
Only continue work in people's homes if it is essential repairs or maintenance
2m Social Distancing guidelines and hand washing must be carried out
Workers must stop if they or members of their household have symptoms
Vehicles should be ventilated and regularly cleaned especially between operators
Workers on sites should be kept to a minimum, especially in confined areas
Touch points need to be cleaned often, and materials should be handled by the minimum number of employees
Others have interpreted the guidelines as that if you can comply with the measures set out specifically for construction works then it is possible to return to work. This looser interpretation is harder to see applied appropriately to work in your home (unless emergency work), but it is more understandable on larger site and outside.
If you have an emergency and must get someone in to assist you, we recommend that you take extra care as, because they are continuing to work, they will have had much more contact with other people than other tradespeople who are locked down. This does make them a higher risk as we know that coronavirus symptom might not show for up to a week or more even if they have contracted the virus. But if it is an emergency, then needs must.
Precautions When Having Work Done in Your Home
We suggest that you:
Confirm that they do not have symptoms and that in the last 14 days they have not come into contact with someone who has symptoms
Provide hand washing facilities for them to use before entering your property
Ensure that you maintain all the recommended social distancing guidelines, and leave them to work alone as much as possible
Don't offer them tea and coffee. They are very unlikely to be offended, they will understand and be grateful of your understanding that this risks transferring the virus, so don't take the risk
Keep their working area to the smallest possible area, and clean all touch points when they have left
While there is no definitive advice, you might find it reassuring if they were to wear a mask while in your home (but bear in mind that PPE supplies are being prioritised to NHS workers).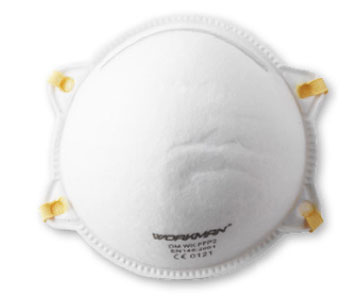 There are construction specific guidelines that have been prepared by the Construction Leadership Council, which are a very helpful guide.
If you can wait – wait. If it cannot, then you can find a tradesmen here, but be prepared to wait a little longer than usual.
Doing it yourself – where to get the materials
If you can find someone that is prepared to carry out the work it will be challenging to get the materials promptly. And it will be even harder if you want to get them yourself as you will not have access to trade accounts which most tradespeople will have.
The Builders Merchants Federation (BMF) have published a list of their members who have responded to a poll asking them if they are open, and if so whether there any restrictions on service. This covers many of the regional and smaller merchants. You can see this list here.
The vast majority of builder's merchants are either closed or partially closed, offering restricted service, although as time goes on more and more are opening albeit with restrictions. We have found that many are only serving customers with existing trade accounts, and even then you have to have a delivery or come to collect during a prescribed collection time.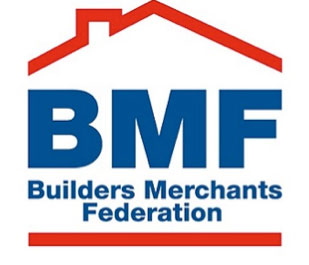 This approach is similar to the national DIY Sheds. B&Q and Wickes are limiting access to their websites, often for over an hour. When you are able to get on to their site you are offered a restricted range although this seems to be relaxing fast.
You can get delivery, but they are at pains to point out that this is likely to be delayed due to unprecedented demand. Or you can use a click and collect service from outside the stores or with a "contactless collection process".
Screwfix (part of the Kingfisher Group with B&Q) are also operating deliveries and a click & collect service, although many stores have closed or are operating reduced hours.
Jewsons have closed all branches and are offering a delivery service to trade accounts from limited branches only. When ordering (by email only) you are required to justify that the work is essential, and they will only deliver to sites which are deemed essential by the government.
Travis Perkins also are only delivering to essential sites. If your site meets the listed criteria you can order a delivery by phone or email.
Homebase have closed all their stores, but are continuing to offer deliveries, although they are at pains to point out that these will likely be delayed due to the high demand.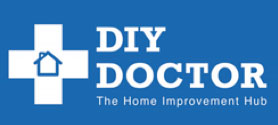 Our own tool store is now open again, having closed while we organised which products we could sell. Like all other retailers we will have longer and more unpredictable delivery times, partly due to demand, but also as we are limited by following the social distancing guidelines which will slow our picking and packing activities. You can browse our range of tools here.
Returns and Damaged Items
Most stores are not operating a full returns service for damaged or unwanted products, so it is worth ordering carefully. In-store returns, where stores are open, are not available or severely limited. This does mean that in many cases refunds are not being processed.
For our tools store there is no change to the returns policy and process, as we do not have a physical shop. All returns need to be posted or couriered back to us, but please get in touch if you have any questions.
Tool & Plant Hire
It is a very similar story for tool hire companies. HSS have closed all but 3 of their shops and are just running a delivery-only service for essential services. Speedy Hire have abandoned their 4 hour delivery promise for all except NHS projects.
Many smaller regional hire shops have either closed outright during the lockdown, or are offering a much reduced service with longer lead times.
If you do need to hire tools or plant for any essential work you are carrying out then you will need to ring your local hire shop to confirm what they can assist you with.
In summary, you should only be getting tradespeople in to assist you with essential projects. However when it comes to DIY, assuming you are careful not to injure yourself thereby putting unnecessary pressure on the NHS, it is something that can be done during "lockdown".
Getting deliveries for your DIY Projects is something that can be done if the retailer supports it through their courier network. Getting bulk deliveries of materials will be more challenging so projects that require tonnes of sand, timber etc. should be put off until after this crisis.
Get in touch and let us know your experiences, and opinions in the feedback below.